Home » Environment
It's time to Connect the Dots – Sonja Deely
Submitted by Charlotte on May 9, 2012 – 1:42 pm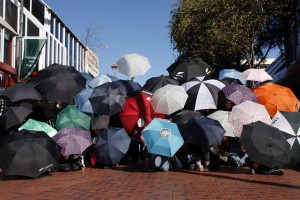 The images from 350.org's global day of action, Connect the Dots, are astounding, remarkable and moving (climatedots.org).
Majuro Atoll in the Marshall Islands, kicked off the day, May 5, when local islanders met at sunrise for a blessing on the beach before divers took their dotted banner underwater to a bleached reef in their lagoon.
As the day moved on, over 1000 events took place worldwide. Connecting the dots was making the connections between local extreme weather events and climate change impacts.
It included climbers unfurling a giant "I'm Melting" banner on a glacier in the Sierras, monks in Thailand gathering outside their temple that was damaged in last year's floods, students in Myanmar doing street theatre about record breaking heat, a snowless ski race in Aspen, Colorado and climbers hanging a giant red dot off of Table Mountain in South Africa.
It was also making connections between people all across the globe as each took their turn to stand with their dots, unifying individuals, communities, regions, countries and hemispheres.
In Tando Allah Yar, southern Pakistan, a family stood in front of their badly damaged house with a collapsed roof due to devastating floods in 2011.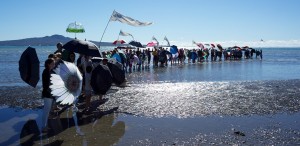 In particular, looking at this family in Pakistan, it seemed to me that we had reached across vast distances, across cultures and across religions to say the same thing. It felt beautiful and wondrous. And the day was making more connections. This time the human connection – the human side to climate change.
Yolanda on the Island of Ros with her touching sign saying" Micronesia: To you we may look like tiny dots in the middle of the ocean, but our dots matter too!"
There's a group in Idjwi, Democratic Republic of Congo, a singular young boy Karim in Alexandria, Egypt, holding his sign in front of his disappeared beach that is now a makeshift seawall, a family in Sacred Valley, Peru, worried about having enough water, and teenagers in front of their houses destroyed by tornados in Lancaster, Texas.
These extreme weather events are having an impact on people, families, and communities. Climate change impacts are happening now.
The images and stories are powerful and strong. The messages are clear. Together, we can help others make the connection between climate change and the extreme weather events we are experiencing already.
Together, we can empower people to make changes for good in their own lives.  Through our connection, we can stand together and push for positive change.  Connected, we can influence the need for positive energy solutions, not just here but across the globe.
Having only recently become involved in 350.org it was an absolute  pleasure to be a part of an "umbrella seawall" in Wellington, highlighting the issues with sea
level rise and to see the other actions taking place in New Zealand, Australia and the Pacific.
Whilst the story is a sad one: that we are already facing climate change impacts, the results from this day have been a togetherness, a unity, and a connectedness on a scale that I have not felt before.
I feel incredibly honoured to have played a part, albeit a seemingly small one, as this was made all the more significant because others in so many places had
done so too.
We can make positive changes not only for our children and future generations, but we can do it for this generation, for each other, now.
Please make a connection and go to climatedots.org.
Sonja Deely
350 Oceania Communications Coordinator
GD Star Rating
loading...
GD Star Rating
loading...
Tags: 350.org.nz