Home » Green technology
Free 'Best Fish Guide' app for your iPhone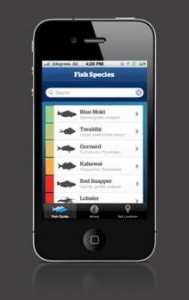 May 9 2012 – Wellington
Forest & Bird media release – for immediate use
Free 'Best Fish Guide' app for your iPhone
___________________________________________________________________
Forest & Bird's new iPhone application makes choosing eco-friendly seafood as easy as (fish) pie. The free Best Fish Guide app ranks 78 seafood species caught in New Zealand waters according to ecological sustainability. The higher up the chart, the better the choice – with seafood like albacore tuna, blue cod and trevally among the top picks.
The app has a whole lot of information that explains why each species is or isn't a good choice and links to the Forest & Bird website where you'll find recipes by top New Zealand chefs like Al Brown, Martin Bosley and Annabel Langbein for some "good choice" seafood dishes.
Based on the latest independent and government research, there are a lot of seafood choices ranked in the guide's unsustainable "red zone". But there's no reason you have to give up any of your favourite fish dishes. The app suggests cooking alternatives for some of the worst-choice species. If your recipe calls for "red zone" species like orange roughy or snapper, take a quick look at the Best Fish Guide app and you'll find trevally and tarakihi make an easy, eco-friendly substitute.
We're currently working to make the app suitable for all smartphones.
Forest & Bird would like to thank award-winning digital agency Resn for donating their time and expertise developing the app, and helping us help Kiwis, help the environment.
Download Forest & Bird's free Best Fish Guide iPhone app from the Apple iTunes store at http://itunes.apple.com/gb/app/best-fish-guide/id509376909?mt=8&ls=1 or for more information visit www.bestfishguide.org.nz
For more information about the Best Fish Guide, contact Forest & Bird Marine Conservation Advocate Katrina Subedar (04) 801 2210 k.subedar@forestandbird.org.nz
For a high-res image of the mobile phone app or the Best Fish Guide please contact Communications Officer Jolene Williams (04) 803 1020 j.williams@forestandbird.org.nz
GD Star Rating
loading...
GD Star Rating
loading...
Tags: fish