Home » Youth
UNICEF NZ Begins Search for Aspiring Young Reporters
Submitted by Charlotte on May 10, 2012 – 5:18 pm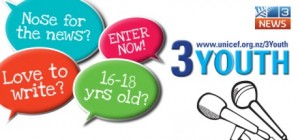 UNICEF NZ (UN Children's Fund)
Media Release
Wednesday 9 April. 2012
UNICEF NZ Begins Search for Aspiring Young Reporters
UNICEF NZ (UN Children's Fund) and 3News are searching for five budding young reporters to write for 3Youth – a space on the 3News website dedicated to news written by young people.
Passionate young writers, aged 16-18, have until June 1, 2012 to apply at www.unicef.org.nz/3Youth. Applicants are asked to submit a short video about themselves and to write a 500 word news story which will be judged by leading journalist, newsreader and UNICEF NZ ambassador Mike McRoberts.
The winning five will be asked to commit to 3Youth for 12 months with the project kicking off in late June with a workshop in Auckland at 3News headquarters. The training day will include sessions from both UNICEF NZ and 3News staff and includes a master-class on the art of journalism from Mike McRoberts.
Sarah Morris, Advocacy Manager at UNICEF NZ, said "An important part of UNICEF's work is to encourage young adults to have their voices heard and the 3Youth project achieves that by giving young people a platform to express what is important to them in today's news.
"We are excited to be working with 3News on the 3Youth project for the second year running.  This is a fantastic chance for passionate young writers to step up and take the challenge of bringing issues of global and local importance to a mainstream New Zealand audience."
Applicants must be aged between 16-18 years old, have a nose for news and be committed to writing 12 stories for 3Youth over a 12 month period. Applications must be submitted by 5pm on June 1, 2012 and can be made at www.unicef.org.nz/3Youth
GD Star Rating
loading...
GD Star Rating
loading...