Home » Local Good News
Random Crafts of Kindness – by Steve Carter
Submitted by Charlotte on May 11, 2012 – 7:05 am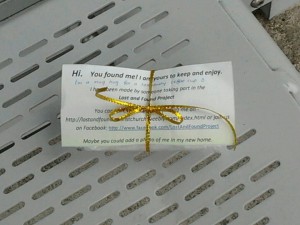 Local Good News/Christchurch
It's often the little things that make a difference.
When one is surrounded by evidence of destruction and change every day, as we are in this city, it is easy to feel overwhelmed or feel that we have lost control over our lives.  Many people are tired, disillusioned, crippled by uncertainty. But a small act of kindness can be enough to lift our heads up, to give us pause or to refocus our attention. Plus, it can reap wider dividends.
Amelia Earhart said, "No kind action ever stops with itself. One kind action leads to another. Good example is followed. A single act of kindness throws out roots in all directions, and the roots spring up and make new trees. The greatest work that kindness does to others is that it makes them kind themselves."
Christchurch is actively brimming over with little kindnesses right now and Lesley and Lyne are actively trying to promote more with their 'Lost & Found' project. The idea is simple:  They make, and are encouraging others to make, small gifts, which can then be left in public places for strangers to find.
Why?!
Lesley answers that simply and directly: "Why not? It's great fun!"
Fun indeed, with little teddy bears and homemade coffee mug warmers and all manner of other crafty creations left around the city with a little printed label explaining why.  Not secondhand cast-offs or items bought in a shop but, as Lesley is keen to make clear, "something that someone has spent time to make and then has given up … that's the 'head-job' we are doing on people." It's a gift, completely freely given for no other reason than the joy of giving … the kind of unexpected delight that is designed to make people stop and think.
It's such a beautiful notion and it reflects something of a wider underground social movement emerging across the city since the earthquakes. A variety of arts and
community projects are springing up to bring colour and life to our city or to give voice to our experiences. Everywhere, people are contributing their own parts to the wider recovery.
As Lesley says, "Not everyone has the ability to get out in the streets and dig silt but they can do things with their hands … and they have the heart to give something back. We are just providing one vehicle and letting it go."
It's as valuable a contribution as any other. Brightening the morning commute, or bringing colour to any journey around this city of rubble, traffic cones and metal security fencing, is an important antidote to the sense of gloom that might otherwise pervade a disaster zone.
It is in the power of art to transform our spaces and encourage us to view them again through different eyes. Often we don't even realise it is happening – it is merely a
backdrop to our daily lives. But could we imagine life in Christchurch without the Gap Filler sites, the painted shipping containers or the trees wrapped in knitted sweaters?
It also gives Christchurch people the permission to seize control of their lives. There's no denying people are doing it hard but as Lesley says, "We don't have to wait for CERA to tell us what to do, we can do things for ourselves and we can make a conscious choice about how we view the circumstances we live in."
Lyne agrees. "We have had so much happen to us, the outside world imposing on us. It feels good to give something from ourselves to the outside."
Lost and Found is a brand new project, but it's simple appeal is immediate. Within a week of starting, 130 people had joined the Facebook page. Now it's just a matter of waiting to see if people post comments about the objects they have found or have photographed their gifts-in-waiting as is suggested on the website and the labels.
That said, the response is not the point … it's the act of giving that makes these women tick. Seeing a little teddy bear in Crusaders colours "go off on a little journey of his own" is enough of a buzz that getting a reply is almost irrelevant.
Genuine giving, without thought or concern for any return. It's a powerful reaction, echoed across the city in spontaneous acts of creativity and random bursts of colour, springing from empty spaces and adorning flat, featureless walls. Art for art's sake, not commodified or commercialised but democratised and adopted as something to be proud of in a city that many seem to want to paint as grey, depressing … and beaten.
It has become a defining aspect of the defiant, unbeaten character of the Shaky City.
Lyne talks about a friend who felt like leaving Christchurch because all the galleries were closed down and there was nowhere to go to see art. "Now it's the complete opposite," she says, "the Art Gallery is closed but there's art everywhere."
Fridges full of books, flowers in road cones, heart-shaped messages of hope. Just a few examples to which we can now add tiny parcels, simple creations passed on anonymously from one human being to another. From the ground up, people are making art in an unmediated and inclusive way, as a fundamental part of our response to what we have experienced.
Every single piece of it is a priceless gift.
For more info or to get involved in the Lost and Found Project, visit them on Facebook at http://www.facebook.com/LostAndFoundProject or check out the website at http://lostandfoundinchristchurch.weebly.com/index.html
Read the inspiring stories of our Christchurch sponsors:

Social Innovation is a small, hardworking community engagement agency based in Christchurch. They work with leading non-profits, changemakers, progressive companies and government to mobilise everyday New Zealanders. Their expertise in this area comes from grassroots innovation on large-scale community action projects, including the Student Volunteer Army, A Day at the Beach Festival, Love your Coast and a number of other public participation initiatives. They know how to scale initiatives and achieve big results with large numbers of stakeholders.
They have developed an integrated blueprint for community organising in the 21st century, drawing inspiration from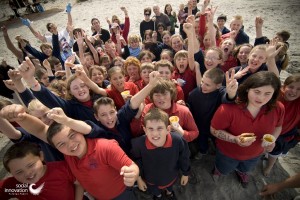 kiwi folk heroes like Kate Sheppard combined with the sheer power of modern technology. At the heart of what they do is supporting everyday New Zealanders to take action and participate fully in public life, in turn increasing the proportion of citizen's who know that they can make a difference to the way things are.
Their services include strategy, leadership training, volunteer coordination & management, media and communications, project management and fundraising. Find out more at www.socialinnovation.org.nz or make direct contact via their studio-line on 03 337 0861
Ph:  03 337 0861 or info@socialinnovation.org.nz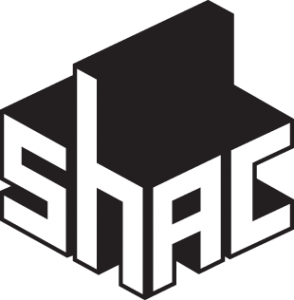 SHAC – The Sustainable Habitat Challenge – is a network of architects, builders, engineers, designers, building scientists, students and young professionals interested in taking positive action in their communities today.
On the 2-3 May 2012, SHAC presented the 2nd annual workshop on micro-architecture at the Christchurch Polytechnic Student Centre. Sixty attendees discussed temporary architecture, simple buildings, and the reuse of building material.
"People cherish their culture through recycling" – those are the words of Wang Shu, the 2012 winner of the Pritzker architecture prize. The demolition of red stickered housing and CBD buildings does not have to mean the eradication of Christchurch's history or culture – nearly all materials can be reused in new construction, incorporating local memories and fusing the past with the present.
What is permanent in this land of earthquakes? In San Francisco, the Palace of Fine Arts was built in 1915 as a temporary building for the Panama-Pacific Exposition and still stands today as an icon of the city. From the cardboard cathedral to the convention centre – how long will they serve us?
"Simple buildings are key for affordability" said Canadian architect Brian McKay Lyons, recently interviewed on Nine to Noon with Kim Hill. Lyons, from Nova Scotia, says "simple buildings are what we farmers and fishermen build when we can't afford to get things wrong"
This symposium brought together elements of the growing Regeneration movement – people working together to take positive action in their communities.
Community Rebuild – for the Whole House Reuse project Juliet Arnott
Community Development – Joshua Durrant, Jess Smale, Sophie Moore

YTONG® is an alternative building system made from light-weight Aerated Autoclaved Concrete (AAC). It was invented in Sweden in 1923 and further developed under the YTONG® brand it turned into a world-wide success.
Environmentally friendly and non-toxic – From the manufacturing process to shipment, construction, and waste disposal YTONG® is in ecological balance.
Good sound absorption – effective sound barrier – The natural air cushion formed in the high-pressure steam curing of AAC can absorb the most possible noise.
Ensures high standard of well-being – YTONG® reduces temperature differences and humidity fluctuations and so ensures a comfortable and healthy room atmosphere.
Excellent workability – It is easy to erect a solid masonry structure quickly and precisely. Only few tools and implements are necessary.
Outstanding thermal insulation – Keeps buildings cool in summer and warm in winter saving on heating and air-conditioning.
YTONG® is fireproof and has a high fire rating – AAC is resistant to high temperatures for a longer period of time than any other solid building material. YTONG® is especially chosen for fireproof walls in commercial buildings.
Performs well in earthquakes – Thanks to its low weight and its plastic deformation properties the destructive force of earthquakes can be minimised.
GD Star Rating
loading...
GD Star Rating
loading...
Tags: christchurch, Christchurch Recover