Home » Food
Goat's milk: Angels Delight – by raw foodie Sarah Lea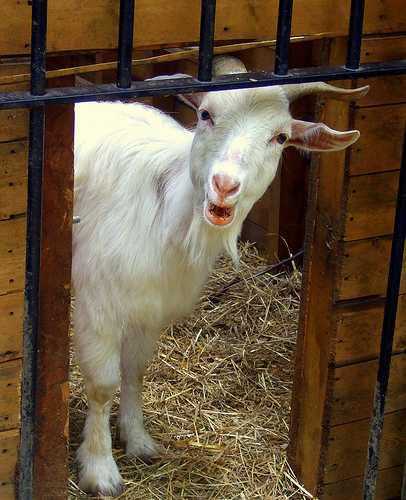 Often referred to as stubborn as a goat, I've finally met my match.
My adversarys name is Spirit. At first I took that name as being sacred; a goat with emotions of a delicately refined quality. However, she quickly introduced herself with a liveliness that has persevered throughout the week.
Light footed, I have stuck my feet in and doggedly pursued my honourable intentions of milking her daily.   My friends can go away (Spirit is only with us temporarily so that her real parents can go on holiday), the goat feels lighter and my girls get to drink the freshly sweet, raw milk.
So, most mornings at 7 you can find me singing sweet somethings in Spirits' ear, stroking, caressing, talking to her. After a litre or so of  liquid gold, I am tripping up through fields of lush grass, hot in the pursuit of a wily goat whose soul pursuit of the morning is to give her milker some exercise in patience.
Chickens clucking around my feet and a bouncing giant dog leaping way overhead add to the chaos. Four mornings out of seven I have given up and returned for frolicking with the wild life in the afternoon.
Spirit has plenty of action left in her. She bleats out her welcome, coaxing me with her friendship. Up she jumps with sure footedness onto her platform, and I manage to squeeze a little more milk from her full teats. The bucket is knocked over and she's down on her knees. I feel like joining her.
I have never been a milk drinker. Milk would always make me feel bloated and give me abdominal cramps. Cheese made me sick and the smell was enough to keep me away from any other milk concoction. However, recently I have added small amounts of raw goats milk and raw goats cheese to my childrens' diet.
In moderate quantities, animal products can be one way to assist you in keeping a high percentage of raw food. Raw goats and cows milk, butter, yoghurt, kefir and unpasteurised cheese all have their benefits. A way of accomodating our inability to assimilate all the nutrients we need from plant forms or simply an alternative to the large amount of insect matter we would have consumed way back when we gathered wild raw foods as our original diet.

Unpasteurised goats milk is more digestible than cows milk. It is richer in fats and has smaller protein molecules than cows. Raw milk also contains alot of probiotics.
Eating yoghurt from raw milk restores the healthy intestinal flora which may have been damaged by eating a diet too high in refined foods or by taking antibiotics or medication. It is also a vital source of retinol, K2 fat soluable vitamins and Vitamin D, much needed in a temperate climate where the only other source is from the sun. Although only requiring small amounts, B12 is also essential to our diet and is easily obtained from animal sources. It also contains complete protein and the fats and cholesterol needed for removing heavy metals from the body.
So the children are thanking Spirit daily for adding such sustenance to their lives, making them feel stronger, more relaxed about their diet and reminding them of where their food comes from. For me … it makes it clearer to leave well alone!
Angels Delight (serves two yummy angels)
150ml raw milk
5 large fresh figs
2 medjool dates, soaked
6 apricots, soaked
1/ Blend all the ingredients together until creamy and smooth.
Dip your fingers in and let it bring you to your knees.
GD Star Rating
loading...
GD Star Rating
loading...
Tags: goats milk