Home » Community, Local Good News
'Gift Economy' cafe operating successfully in Golden Bay by Charlotte Squire
Submitted by Charlotte on May 18, 2012 – 7:20 am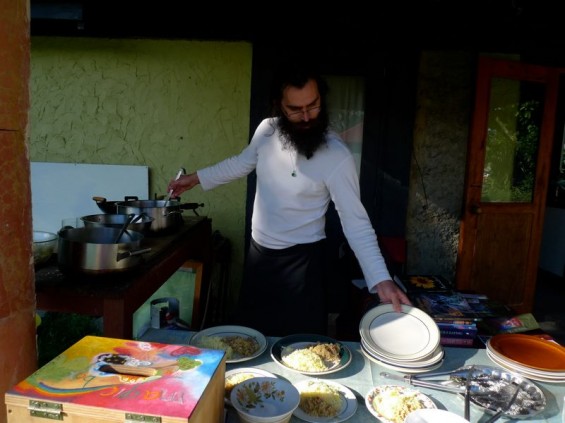 Local Good News/Golden Bay
Sruti Stojchevski is conducting a social experiment from the Golden Bay Community Organic Gardens. He's serving up fresh food, lovingly prepared daily according to Ayurvedic principles from mostly local organic produce, at his cafe 'Space of Love'.
Now here's the interesting part, as a customer: once you've finished your meal, you get to choose how much you think the meal was worth and deposit your koha anonymously into "the magic box" on the counter.
What a concept. Sruti calls it 'the Gift Economy' and he finds it seriously fascinating to watch how people deal with this relatively new approach to customer service. He successfully ran a cafe along the same principles from New Brighton, Christchurch until the earthquakes meant he no longer had a cafe. Sruti moved to Golden Bay and took a leap of faith in setting up the Space of Love within a much smaller, but close knit community.
Playing an important role in his venture are the high quality foods he uses. Many of the ingredients Sruti are from the organic community gardens (which are literally right beside the cafe), and he sources his organic grains, nuts, flours, seeds and more from a local organic wholesaler.
Sample menus include 'Italian Calzone with Pumpkin Coconut Soup'; 'Rosemary Yogurt Baked Potatoes with Green Mung Dal and Zucchini in Cashew Tomato Sauce with Paneer Cheese' and 'Vegetables au Gratin with Basmati Rice and Tamarind Chutney'.
People have been known to eat his food and return to work alongside him in the kitchen to learn his recipes.
So this cafe, which obviously serves a well balanced, professionally designed menu, just happens to one hundred percent reliant upon, well, people's feelings at the time of payment. I just had to ask, does this new style of business work financially?

Well, yes. Sruti covers all his business costs, and supports himself with the Space of Love.
"I'm not earning much, but I always seem to have enough," he says
"People pay according to how happy they are with what they have received; instead of always being told how much to pay here they have the opportunity to value the
quality of food, service and the ambience; besides that the other consideration is people are donating according to their means".
Sruti doesn't like to place a figure on how much he charges for the service he offers the community, he leaves it to people to be "guided by their conscience." And he says the thousands of people he's served have generally all given enough to keep him in business.
"Everyone is welcome to contribute in their own way. We wouldn't want people to feel that if they are on a tight budget that they can't afford to eat the food we serve. I am happy to feed one and all, and no one should feel excluded. I say that not because of naivety but out of deep conviction that no one should go hungry."
Apparently younger people tend to 'get it' much easier than those aged sixty plus. Those of the older generation have been known to stand and ask Sruti to give them a figure, any figure.
The figure I finally did wrangle out of him was anywhere from five to fifteen dollars (well actually I found it in an article that was published about him in the Christchurch Press and Sruti nodded). He said that over the past few years in Christchurch there had been a handful of people who continuously gave a coins or two, meaning that others were paying their way. In those very rare cases he would watch them for a while, and if they kept coming back to eat and pay very little, he personally sat down with them to try and work out a way to even up the exchange, wanting everyone to feel welcome at his cafe.
"I want to develop and encourage ideas of trust, generosity and respect," says Sruti.
The concept of paying what ever you think the meal is worth is a novel one for us Kiwis. I must admit that when paid for my (delicious) meal at the Space of Love I gave ten dollars while somewhat nervously hoping it was 'enough'. Sruti expressed nothing but generosity and happiness that I was enjoying the food, and suggested I take another helping, and I got the sense that it really didn't matter what I gave, he was simply there to feed people.
Sruti loves his work, he enjoys the freedom of changing the menu as his moods change, and he loves watching his unique 'social experiment' play out. For him, this is the ultimate job.
"It's really easy, you're just being yourself, living life right for you and if others feel inspired, then that's great."
The Space of Love is open week-days from noon until four in the afternoon. Sruti also sells Ayurvedic supplements from the Space of Love and offers cooking lessons.
Check out www.spaceoflove.co.nz for more details.
Read the inspiring stories of our sponsors:

Billy Kerrisk, Ray White Real Estate New Zealand, Golden Bay branch
TIDY AS – AND OH THE SERENITY!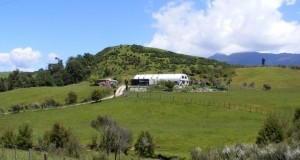 The picturesque Aorere Valley has so much to offer and this 7.7 hectare lifestyle block with a barn conversion style dwelling is a real gem. Everything is done; tight and tidy fencing; clean pastures; good water; established fruit trees and productive vege garden.
The large hangar shaped barn has been converted at the northern end into a comfortable home with some great features – my favourite is the scullery, a wet area currently set up for sausage making, meat packing and beer brewing. If… Read more.
Billy Kerrisk,
027 608 5606
billy.kerrisk@raywhite.com
Golden Bay office 03 525 7219
Sonaz Realty Ltd Licensed (REAA 2008)
Tui Balms is a worker-owned cooperative that began 27 years ago in Golden Bay with Tui Bee Balm, a remarkable healing balm made of beeswax and other natural ingredients.  An effective skin healer, Bee Balm has since become a New Zealand icon, the country's favourite baby balm and the flagship of our popular range of natural skincare and healing balms. Our range of massage Balms with aromatherapy essential oils is the supreme medium for massage.  Tui Balms donates to charitable trusts in New Zealand. Last year, we donated over $30,000 to New Zealand charities! Find Tui Balms at your local health store or organic shop.
www.tuibalms.co.nz
contact@tuibalms.co.nz
ph 03 525 9654.
HealthPost is New Zeala
nd's favourite online retailer of natural health supplements, proudly based in Golden Bay. Established more than 20 years ago, HealthPost is still in 'The Bay' because, basically,we like living here! Our rural location poses logistical challenges from time-to-time (flooded rivers and road wash-outs!) but the dedication and ingenuity of our 38-strong team always gets us through. We're committed to balancing profits and principles, donating more than $60,000 to charity in the past two years through our 'doing WELL' programme. We're passionate about the products that
we sell and proud to be able to help people live WELL.
The (happy) end.
GD Star Rating
loading...
GD Star Rating
loading...
Tags: Golden Bay