Home » Community
Whangarei: For the love of cities by Claire Chateau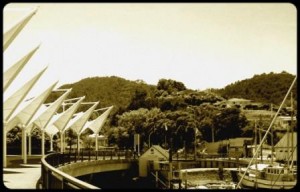 I must have been ten. I remember my parents getting outrageously dressed-up for a party on the theme of "we don't have fuel but we have ideas". The slogan, that was made popular in France after the oil shock of 1973, has been in my head since I've attended the presentation of Peter Kageyama in the Old Library in Central Whangarei. The discussions that took place afterwards made it clear that in Whangarei, if we don't have much money, we do have ideas.
Peter, internationally recognized expert on community development and US author of the book "For the Love of Cities, The Love Affair Between People and Their Places" came over to the Rey two weeks ago, as part of the Totems and Totara Creative Symposium organised by CHART (Culture, Heritage, Arts Resource Trust) and Creative Northland, with a presentation based on the fact that a community can revive its level of engagement for its town with fun, simple and cheap collaborative
projects.
Our audience was shown the example of Detroit city, in the States, that has been in the past years gradually losing its youth. Detroit is being talked about as a place in decline and decay, where no investors are willing to take risks. Because of a dedicated community, a publicity campaign took place in 2011 with engaging humoristic slogans and, a Robocop statue, all costs covered by a handful of enthusiastic inhabitants, is about to be erected.
Another example was the town of Grand-Rapids Michigan which was declared the tenth most dying place in America by Newsweek in January 2011. When a young twenty-three years-old approached the council asking for a camera and help with managing the traffic on the main road, no one knew that he would create a four million viewed Youtube lip dub (video that combines lip synching and audio dubbing) and get the world record for the longest one ever made! The nine-minute clip used 5,000 citizens of Detroit lip-synching to Don McLean's "American Pie".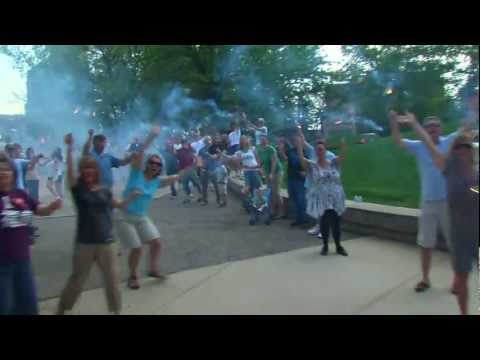 Other examples that can be found on Peter's website (www.fortheloveofcities.com) include marrying your city, tattoo yourself with its main features of interest (I wonder who's in for a full-body Canopy Bridge's tattoo?), writing love notes. The common element among all these initiatives is that they are not done by the city itself but by a bunch of imaginative, innovative, people, emotionally engaged with the place they live in.
For Peter "Every city has to maximise the people that love it and figure out a way to increase that love and emotional engagement". When, later during a workshop, we were asked to brainstorm events on a $500 budget that would prove entertaining for the community and could be filmed, photographed or circulated on social Medias, an all range of simple and cheap projects with positive potential economic, social, cultural and environmental outcomes emerged.
A group of us, keen to participate in making Whangarei a more lovable and engaging city, is meeting this Saturday at 10.30 at the Old Library for a follow-up meeting. Positive inspired people who want to join can contact Hana on 4350230 or email eternalflame@orcon.net.nz.
Claire Chateau
GD Star Rating
loading...
GD Star Rating
loading...
Tags: Whangarei