Home » Youth
Kiwi youth call for more balanced transport budget (in their underwear, on Wellington city trains)
Submitted by Charlotte on May 29, 2012 – 7:02 pm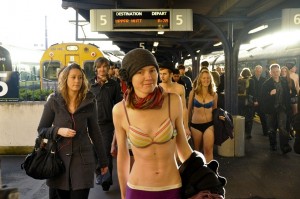 Youth expose Government's unbalanced transport budget
Tuesday 29 May 2012
FOR IMMEDIATE RELEASE
Wellington public transport commuters got a surprise this morning when a group of 40 young people stripped down to their underwear on city trains to "expose the Government's unbalanced transport budget".
The stunt marked the launch of Generation Zero's 50/50 campaign, which is calling for the Government to allocate a greater share of its transport spending to "smart transport" options such as public transport and cycleways.
The group travelled to the Wellington Railway Station, where they set up a physical bar graph using cardboard boxes and signs showing the Government's plans to spend approximately $14 billion on new highways over the coming decade compared with just $0.5 billion for new public transport, walking and cycling infrastructure combined.[1]
Generation Zero spokesperson James Young-Drew said: "It wasn't the nicest weather for stripping down to our undies, but we're willing to expose ourselves to expose this very important issue."
Generation Zero is a youth-driven organisation that wants to see national plans and immediate action towards a zero carbon Aotearoa before 2050, to combat climate change and economic dependence on fossil fuels.
"Transport accounts for over 40% of New Zealand's CO2 emissions, and Kiwis are suffering from rising oil prices due to a lack of practical alternatives to driving," said Mr Young-Drew. "But the Government still has no strategy whatsoever for addressing these problems – in fact we're headed down the wrong road, spending $14 billion on new highways and locking ourselves into a high-carbon economy."
"This is another example of the New Zealand Government disregarding its international environmental obligations."
In recent months, Generation Zero has made submissions to local councils around the country as part of the National Land Transport Programme process, which will allocate funding to transport projects for the next three years and is due to be completed in August.
"Our local councils are generally trying quite hard to move in the right direction," said Mr Young-Drew. "Unfortunately, the Government's Roads of National Significance programme is blowing the budget and there's little left over for the smart transport choices that people want. We aim to change that with 50/50."
The 50/50 campaign is supported by the Smart Transport Network, which advocates for smart transport and aims to better inform New Zealanders on transport issues and solutions.
Smart Transport Network Coordinator Silvia Zuur said: "Younger generations are smart, sustainably minded citizens. They understand that transport investments significantly influence their opportunities as well as their quality of life. Increasingly, younger generations are moving to places where they can get around without the burden of owning a car. The New Zealand government must recognise this generational shift and begin to change its priorities to smart transport. Otherwise younger people will increasingly vote with their feet from the nearest airport terminal."
GD Star Rating
loading...
GD Star Rating
loading...
Kiwi youth call for more balanced transport budget (in their underwear, on Wellington city trains)

,