Home » Uncategorized
Unpackit Awards too close to call
Submitted by Charlotte on May 30, 2012 – 5:39 pm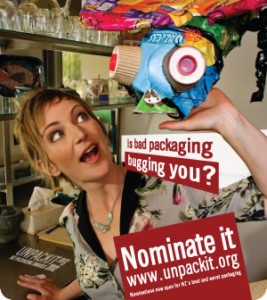 Wanaka Wastebusters
Unpackit Awards too close to call
Competition in the Unpackit Awards is red hot this year, with the leaders neck in neck for both the Best and Worst Packaging Awards.
Unpackit spokesperson Gina Dempster said this year's Awards are going to come down to the wire when voting closes at midnight on Friday 1st June.
"People can be sure their vote is really going to count, because it's just so close this year. We're aiming for 10,000 votes, so we hope anyone who cares about the environment will take a minute to go to www.unpackit.org and put their vote in."
Only eight votes separates the two leaders in the Worst Packaging Award, even though nearly 7,000 votes have been cast online.
"Individually wrapped prunes are ahead in the Worst Packaging Award by a whisker, but the plastic wrapped veggies on a meat-tray are in hot pursuit," said Ms Dempster.
"In the Best Packaging Award, Bin Inn stores, where customers can take their own packaging to refill, have surged ahead in the last week to take the lead.
"It's really too close to call though, with the compostable take-away container made from Potatopak, and the Nude Food Mover lunch-boxes hot on their heels."
Ms Dempster said at least two of the finalists in the 2011 Worst Packaging Award had improved their packaging after the awards.
"People always tell us that they are frustrated by ridiculous over-packaging. Voting in the Unpackit Awards helps show companies that people do care about packaging and its impact on the environment."
People can vote for the packaging which they think is the best and worst for the environment at www.unpackit.org. There are eight finalists in the Best Award and eight finalists in the Worst Award, chosen from over 200 public nominations.
GD Star Rating
loading...
GD Star Rating
loading...
Unpackit Awards too close to call

,
Tags: unpackit, wanaka wastebusters