Home » Youth
A memorable French experience in Auckland
Submitted by Charlotte on May 31, 2012 – 1:20 pm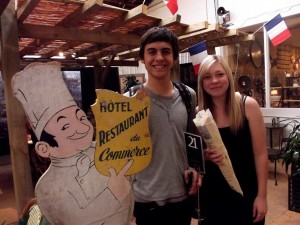 By Hayley Samon, year 11 French at Kamo High School
Image: Hayley Salmon and Chad Tohu, Kamo High School, Whangarei in La Cigale, Auckland
It was a freezing Tuesday morning a few weeks back when we all met up at the bus bay outside of school. There we were, the Kamo High School French students piling onto the forty-four seater bus. We tooted our horn and yelled 'Bon Voyage!' as we left the school gates at 8 o'clock to start our journey to Auckland.
Our first stop was 'C'est Fromage', a cute little French café with a wine cellar on the second floor. 'C'est Fromage', meaning 'its cheese' supplied our hungry stomachs with buckets full of cheese, lollies, pastries and interesting meats. After ordering and thanking the ladies in French we were off.
Our next destination, 'La Cigale' translates into English as 'the cicada'. This unusual shop is divided into three. One third supplies wine, the other third is a small cafe and the last section is a store full of clothes, household items and sculptures. A couple of hours stuffing our faces there and we were on the road again.
We headed towards the Auckland Art Gallery where the Degas to Dali tour awaited our arrival. After an hour and a half of looking at fine art we were given the freedom to travel around Queen Street for one whole hour. My friend and I met this amazing magician who spoke to us in French when he was performing his magical tricks. We ran to pastry stores buying all the croissants you could ever imagine! Alas our rush of excitement did not last as we started making our way home, but our French teacher held something up her sleeve.
We stopped off at The Bridge Way Cinemas just after the Harbour Bridge. 'Le Fils à Jo' was the gripping story that links between a widowed father, a local rugby hero, and his young son, with plenty of typical French characters, that we sat and gazed at in amazement for more than an hour and a half! As the day came to an end we said 'au revoir' to Auckland and to our French food that we loved so dearly. Our stomachs were exploding over our trousers and stretching our t-shirts, and we all agreed we had the best French day, ever.
GD Star Rating
loading...
GD Star Rating
loading...
A memorable French experience in Auckland

,