Home » Environment
Transport experts offer support for cheeky underwear protest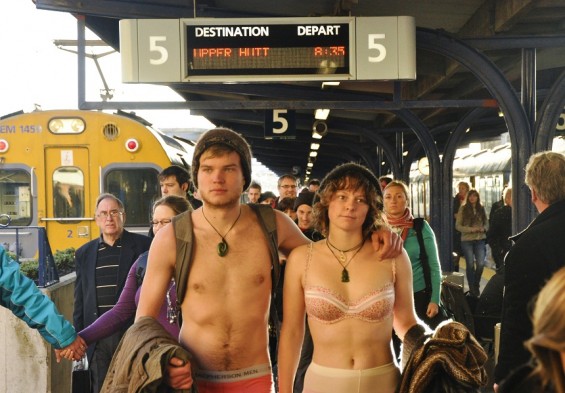 1 June 2012
FOR IMMEDIATE RELEASE
Transport experts offer support for cheeky underwear protest
Transport experts and civic leaders have joined a wave of support for the 40 young people who rode a Wellington commuter train in their underwear on Tuesday, to "expose the Government's unbalanced transport budget".
A spokesperson for the organisers, Jimmy Green, said, "Bottom line, they're all abreast of the issue and prepared to stand up and display their position for all to see."
Organised by Generation Zero, the protest aimed to shine light on the huge imbalance between the $14bn allocated to new state highways and the $0.5bn allocated to new infrastructure for smart transport (public transport, walking and cycling) over the next decade.
Generation Zero is concerned that the budget will do nothing to address the problems of climate change and rising oil prices.
Chair of Auckland Council Transport Committee Mike Lee was highly supportive of the group's efforts: "Generation Zero are on the right track with their underwear protest against Government's 'big roads before public transport' budget priorities," he said. "Generation Zero may have stripped down to their undies but compared to Steven Joyce, Gerry Brownlee, Bill English and John Key they were overdressed. The National Party transport emperors have got no clothes at all."
Generation Zero members were understanding of his enthusiasm in light of the lack of central Government support for Auckland's City Rail Link.
"The 2012 Budget was a vital opportunity for the Government to take a more creative direction with transport spending but, sadly, they missed it." said Dr Ralph Chapman, Associate Professor at Victoria University School of Geography, Environment and Earth Sciences, in response to the protest. "On the climate issue, the International Energy Agency and others say the world is fast running out of time to move away from an unsustainable fossil fuel use pattern – why isn't the current New Zealand government listening to these experts?"
Mayor of Wellington, Celia Wade-Brown, supported Generation Zero's call and its implications for Wellingtonians: "Transport investment must include better walking, cycling and public transport. I want the result to be a vastly better service – reliable, attractive, providing choices and supporting good housing and commercial development at transport hubs. Light rail is the next logical step."
She highlighted the pivotal role of central government support: "Moving from studies to real physical progress will require a stronger vision from local and central government for better transport choices."
The Coordinator of Smart Transport Network, Silvia Zuur, said: "By balancing transportation investments across the modes it helps to provide a range of alternatives for people of all ages. For some families having transportation options means not needing that second or third car which can help to save $6,000 to $12,000 a year; and for others like the elderly and youth the options may be as important as being able to get to places at all."
Stuart Donovan, transport engineer, economist and prominent contributor to Auckland Transport Blog, expressed concern that the focus on new roads was out of touch with recent transport trends: "While people and businesses are driving less, our Government's transport funding priorities have unfortunately gone the other way," he said. "The government has decided to fund a number of hugely expensive state highway projects that, quite frankly, rank right at the bottom of New Zealand's list of transport funding priorities."
Associate Professor Rhema Vaithianathan from the University of Auckland School of Business and Economics was also critical of the Government's economic case, saying:
"The Roads of National Significance make no economic sense; at a time of fiscal restraint when the government is under pressure to cut services they make even less sense. There is absolutely no case, 95% of the benefit is just a few minutes saved in travel."
Mr Green emphasised that the group is not calling for all road building to stop: "Let's imagine transport spending a little like a personal diet. You wouldn't eat the same thing for every meal in a balanced diet. In the same way, you wouldn't spend all your money on new roads in a balanced transport budget. We need to move towards smart, integrated transport choices".
GD Star Rating
loading...
GD Star Rating
loading...
Transport experts offer support for cheeky underwear protest

,