Home » Food
Raising Raw Kids – with raw custard recipe by Sarah Lea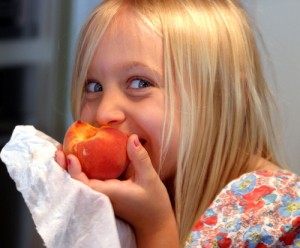 'How can you let them fill mama earth with rubbish?' yelled my eldest yesterday when she observed a dump truck emptying its bellyfull of our unwanteds into the gaping mouth of the tip. Her raw question left me without words as I scrambled through my mind to find a gentle offering to ease her hurt. There wasn't one. She did find it herself however, 'at least our foods packaging goes in the compost'. Phew! Saved by the mind of a six year old. On full alert at our local shop, we made sure that all packaging, if any, could be returned peacefully, for the lands benefit. At the charity shop, once again loudly voicing her opinion regarding the use of plastic bags, an explanation from the volunteer on reusing them satisfied her. Later she moved onto her passion with trees, making her own paper from old newspaper … her plot to save the world's trees from being cut down.
Living with raw foods and children easily deflects a myriad of these observances … air miles, cooking fuel, supermarket dominance, obesity, ill health, skin disorders, mood swings can all be given the heave-ho. Not to mention the speed at which a meal can be put together to distract them from asking any more questions!
High quality, nutritionally dense raw foods build children's brains to release their full potential for consciousness. The high levels of contentment, energy and attachment of children in this biochemical brain state makes parenting so much fun. Watching my children grow so beautifully and learning so effortlessly, the originality of their minds, buzzing with helpful transmittors, the joy they take in their food; green smoothies, salads, sprouts, dandelion leaves, wild garlic … their interest, love and connection with their natural world and their over-flowing enthusiasm for life. Its been a light bulb moment for me  … I've joined the dots and completed the jigsaw!
Feeding a child raw food is going to give them substantially different brain chemistry that will enhance the development of their brains. In turn granting them easier access to expanded mind states, greater creativity, inspiration, confidence and general enjoyment in their life experience.  Bringing up children in the higher frequency that's created by eating plant foods in their living state will create a different experience of life, changing the pattern of experience on this planet. With greater awareness, there's naturally more peace and co-operation between people, therefore creating a better future.
The differences between an adult's requirements and a child's at the raw table are important. Whereas adults are in a constant state of repair and rejuvenation, children are growing with huge momentum. Taking care over some nutrients, the abundance of ecstatic fatty acids will help the brain reach its full potential. The lack of cows milk and wheat will keep the body mucous free, and excluding potato and pasta from their diet will stop any unwanted, artificial weight hide nutritionally starving bodies. To know that I meet their daily requirements I ensure  my children have a juice and/or a smoothie every day. Loaded with green leaves and vegetables, sweetened with their favourite fruits, they receive a bounti-full amount of micro nutrients, protein, calcium, enzymes and vitamins.
Our children's happiness and well being are paramount to us and our culture really needs to reflect this realisation. Meeting a childs real needs connect us to our deepest feelings and our potential as humans. Discovering what children's needs are is discovering life … after all the children are our future.
Raw Custard!
2 bananas
2 avocados
2 dates
2 figs (red insides turn the custard pink!)
50ml nut milk
Blend together until smooth and creamy, adding nut milk 'til you meet your desired consistency.
Cover any delectable sweet treat and hand over to the starving while you prepare your dinner!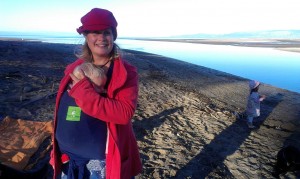 Sarah Lea lives (and loves) a raw food life-style with her family of five in Golden Bay, New Zealand.  She offers seasonal raw food workshops (including her famous, not to be missed Raw Chocolate Workshops!) and one-one-one consults to people in all stages of raw-food-enjoyment.  To discuss life-changing one-on-one Raw Consultation Packages (targeting specific areas, for example: weight loss, pregnancy, endurance, family and vitality), and group work-shops with Sarah Lea, Raw Food Coach, email: tarrysarah@hotmail.com
GD Star Rating
loading...
GD Star Rating
loading...