Home » Community, Local Good News
Gap Filler: painting Christchurch like a canvas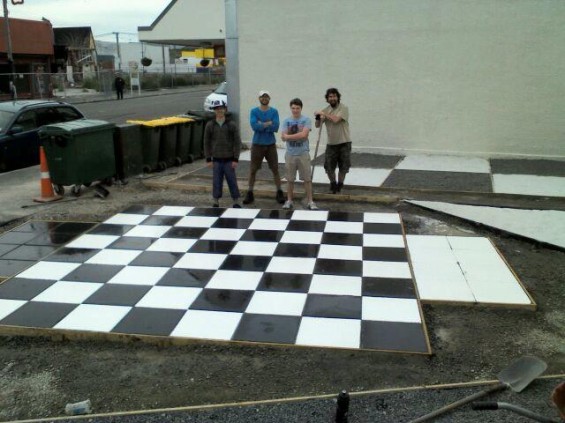 Local Good News/Christchurch
by Steve Carter
It's about vacant spaces. We certainly have a lot of them in Christchurch right now.
More importantly, it is about how we choose to engage with those spaces and how those choices are an integral part of the process of a city reinventing itself after a major disaster.
I am sitting in a shed, a.k.a. the Gap Filler Temporary Office, talking to Coralie Winn, in a suburb that could quite easily have been deserted as a demolition zone. Sydenham lost a lot in the quakes of September and February and could easily have been abandoned as another part of town with a gloomy future. But this funky wooden building, adorned with solar panels and surrounded by cute wheelbarrow-planters and raised beds, sits amidst a horde of reclaimed spaces that sing of a vibrant suburb seizing control of its future.
As Coralie says, "There's a heap of pop-up projects in [Colombo Street] at the moment.  That really has changed the character of this area … and brings people to it"
There's a big chess board and a fab piece of wall-sized stencil art. There's a coffee cart and a dairy in a container. Student radio station RDU was, until recently, beaming out of a truck not so far away. There's even a painted piano if you want to wander along and tinkle some ivories …
… And new and relocated businesses are springing up alongside.
After all, those visitors drawn to the things that are happening, will bring other people back with them when they inevitably return. Business goes where the people go. It's a well-understood cycle of regeneration, even potentially, as Coralie suggests, of "gentrification".

Sydenham certainly doesn't feel like a moribund, earthquake-ravaged suburb and the Gap Filler office sits conveniently at its philosophical heart.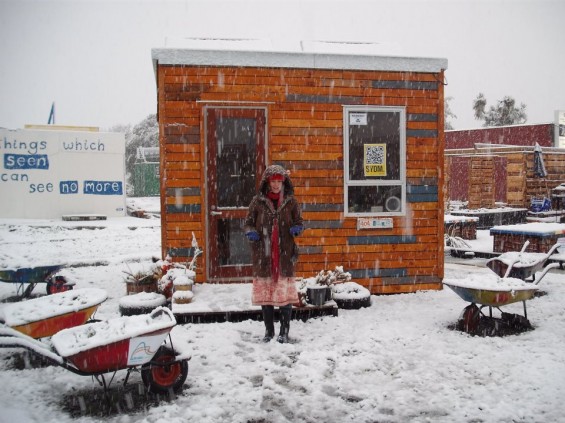 Gap Filler has become a defining part of the city's response to the earthquakes. It is the brainchild of Coralie and her partner Ryan Reynolds.  Coralie lost her job at the Arts Centre following the September 2010 quake.  She and Ryan decided to fill holes in the city with art. Coralie calls it "playing with the city like a canvas, interacting with it in a creative way."
In the wake of disaster, or any tough circumstances, people discover extraordinary ways to address their personal experience, to make sense of it and to find ways to face forward.  Artistic expression has always been at the vanguard of that. It can be the key to the way some choose to transform their challenges.
Coralie, understanding that value, also feels a strong desire to encourage others to see they have the same choice, can choose to look at piles of rubble and metal fencing or see the city's 'gaps' as opportunities to be playful.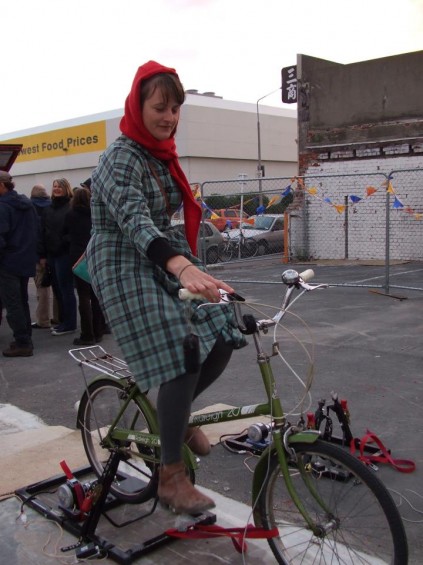 If you see an empty block, you might put a fridge in the middle of it, fill it with books and call it a Book Exchange. Alternatively, you might decide to turn the space into an outdoor cinema run on power generated by cycling. You could hold poetry readings and photo exhibitions or create mini-golf holes. You could even build an open-space dancefloor, complete with lights and soundsystem, and let people plug in their iPods and dance to their own tunes.
Why not? Gap Filler did.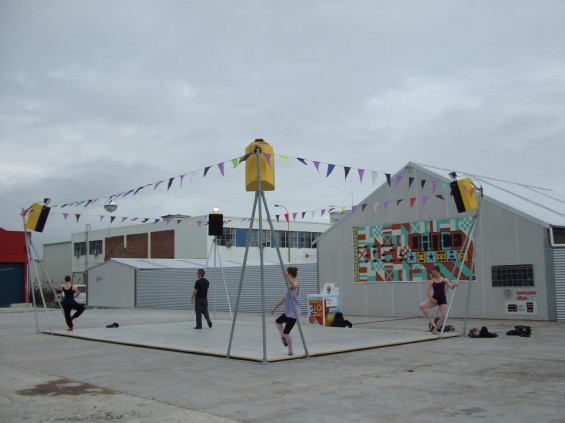 That's right: Dance-O-Mat, powered by a coin-op from an old laundromat washing machine. A masterful idea, and one that has been played with, in, and all over, by huge
numbers throughout its summer run (it has now been packed down for the winter).
"In terms of usage and numbers of people," Coralie agrees, "Dance-O-Mat has definitely been the most successful Gap Filler project." But she is also clear that success, for
her, is not just about creating great Gap Filler projects. "Equally important is that more community-led projects are inspired to develop vacant space projects of their own," she says. That way, the model becomes embedded as part of the transitional city we are living in.
"There are less of those independent projects yet," she points out, "because people see a vacant space project and they view it as a Gap Filler project. There's a demand for people to connect to vacant space but nobody really knows how to do it … how to find out who the owners are, how to approach them."
So they come to Gap Filler and ask them to do it, as they represent the successful model.  Unfortunately this creates a capacity "bottleneck", so Coralie is keen to make clear that the aim is to share knowledge and inspiration and thereby enable more people to do it for themselves. "The intention", as she puts it, "is to create social change, a change in attitude towards vacant space."
So, if a small group of artists fill gaps in the city then that is to be celebrated. It can provide a uplifting double-take as one travels around or, as Coralie says, "bring life and
personality to an area in a very organic way."
It is important, for health, for community spirit and resilience, for motivation to continue with the task of rebuilding our lives.
But it is just a start.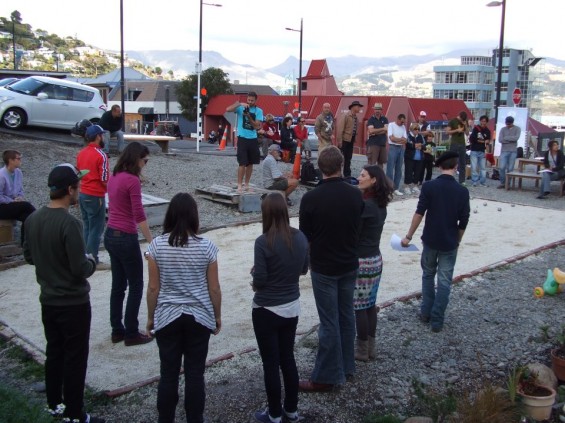 Imagine the impact if many more people chose to see the gaps that have been forcibly ripped into their neighbourhoods as new spaces filled with opportunity. For art, yes, but also for other community spaces: of reflection and celebration; for community gardening and native replanting; for new thinking about urban design possibilities. For new businesses and a new, revitalised economy.
If new investment or reinvigorated business activity is too often viewed as the only tool of regeneration, it is frequently shown to follow on the heels of the energy generated by a vibrant and creative community. The two have a sometimes-fraught relationship but they are both equally vital components of urban renewal.
Coralie summarizes Gap Filler's aim more neatly: "We just want to see as much of this stuff happen as possible."
The city is a canvas Christchurch. Use it.
For more information on Gap Filler, especially if you want help to develop vacant space projects of your own, visit the website at www.gapfiller.org.nz or on Facebook at: http://www.facebook.com/GapFiller
Read the inspiring stories of our Christchurch sponsors: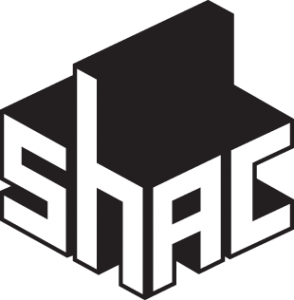 SHAC – The Sustainable Habitat Challenge – is a network of architects, builders, engineers, designers, building scientists, students and young professionals interested in taking positive action in their communities today.
On the 2-3 May 2012, SHAC presented the 2nd annual workshop on micro-architecture at the Christchurch Polytechnic Student Centre. Sixty attendees discussed temporary architecture, simple buildings, and the reuse of building material.
"People cherish their culture through recycling" – those are the words of Wang Shu, the 2012 winner of the Pritzker architecture prize. The demolition of red stickered housing and CBD buildings does not have to mean the eradication of Christchurch's history or culture – nearly all materials can be reused in new construction, incorporating local memories and fusing the past with the present.
What is permanent in this land of earthquakes? In San Francisco, the Palace of Fine Arts was built in 1915 as a temporary building for the Panama-Pacific Exposition and still stands today as an icon of the city. From the cardboard cathedral to the convention centre – how long will they serve us?
"Simple buildings are key for affordability" said Canadian architect Brian McKay Lyons, recently interviewed on Nine to Noon with Kim Hill. Lyons, from Nova Scotia, says "simple buildings are what we farmers and fishermen build when we can't afford to get things wrong"
This symposium brought together elements of the growing Regeneration movement – people working together to take positive action in their communities.
Community Rebuild – for the Whole House Reuse project Juliet Arnott
Community Development – Joshua Durrant, Jess Smale, Sophie Moore
Positive Action – Gapfiller Trust

YTONG® is an alternative building system made from light-weight Aerated Autoclaved Concrete (AAC). It was invented in Sweden in 1923 and further developed under the YTONG® brand it turned into a world-wide success.
Environmentally friendly and non-toxic – From the manufacturing process to shipment, construction, and waste disposal YTONG® is in ecological balance.
Good sound absorption – effective sound barrier – The natural air cushion formed in the high-pressure steam curing of AAC can absorb the most possible noise.
Ensures high standard of well-being – YTONG® reduces temperature differences and humidity fluctuations and so ensures a comfortable and healthy room atmosphere.
Excellent workability – It is easy to erect a solid masonry structure quickly and precisely. Only few tools and implements are necessary.
Outstanding thermal insulation – Keeps buildings cool in summer and warm in winter saving on heating and air-conditioning.
YTONG® is fireproof and has a high fire rating – AAC is resistant to high temperatures for a longer period of time than any other solid building material. YTONG® is especially chosen for fireproof walls in commercial buildings.
Performs well in earthquakes – Thanks to its low weight and its plastic deformation properties the destructive force of earthquakes can be minimised.

Social Innovation is a small, hardworking community engagement agency based in Christchurch. They work with leading non-profits, changemakers, progressive companies and government to mobilise everyday New Zealanders. Their expertise in this area comes from grassroots innovation on large-scale community action projects, including the Student Volunteer Army, A Day at the Beach Festival, Love your Coast and a number of other public participation initiatives. They know how to scale initiatives and achieve big results with large numbers of stakeholders.
They have developed an integrated blueprint for community organising in the 21st century, drawing inspiration from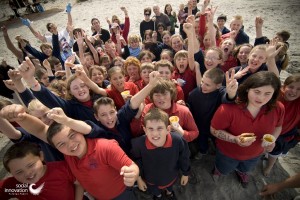 kiwi folk heroes like Kate Sheppard combined with the sheer power of modern technology. At the heart of what they do is supporting everyday New Zealanders to take action and participate fully in public life, in turn increasing the proportion of citizen's who know that they can make a difference to the way things are.
Their services include strategy, leadership training, volunteer coordination & management, media and communications, project management and fundraising. Find out more at www.socialinnovation.org.nz or make direct contact via their studio-line on 03 337 0861
Ph:  03 337 0861 or info@socialinnovation.org.nz
Got good news to share about your social enterprise?  Join this inspiring line up of Christchurch sponsors, email charlotte@happyzine.co.nz
GD Star Rating
loading...
GD Star Rating
loading...
Tags: christchurch, gap filler