Home » Business, Club Happyzine
Product Review: Kiwiherb Organic High Potency Echinacea Root Extract with Active Manuka Honey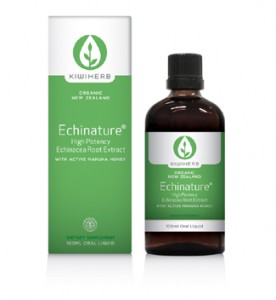 I just took another dose of echinacea.  I've got the sore throat thing going on, and the slightly worn out feeling that has been known to preceed a cold.  But not this time!  That's my anti-cold war cry just in case you didn't notice.  Frequent doses of echinacea at this stage tend to do the trick for me.
I adore echinacea and I'm excited to have this opportunity to rave about it.  There may be some readers out there who haven't heard about its awesome, speedy, immune boosting powers, or perhaps the odd few who need a reminder, especially around this time of the year.
Kiwiherb offer a Bio-Gro certified organic 'Echinature' and Active Manuka Honey oral liquid that's been proven to be both immune enhancing and also anti-inflammatory and healing.  This is a potent combo of premium New Zealand grown echinacea root, active manuka honey and natural flavouring.  It has guaranteed high potency with certified levels of active alkylamides – which produce the notable 'tongue-tingling' feeling I'm experiencing right now.  This means it's working and is a sign of good quality echinacea.
Interestingly, although I aways thought the echinacea flowers were the best way to go, the folks at Kiwiherb say that the alkylamides/alkamides found in echinacea, which have the most important "immunostimulant activity" are found to the highest concentration in the echinacea root.  The dried echinacea root produces an extract with the higher concentration of alkylamides, compared to the fresh plant.
Another interesting thing that I'm discovering in the Kiwiherb information is that clinical trials found that the treatment dosage during a cold or infection should be two to four times greater than the preventative dose.  I guess that makes sense, but I always saw echinacea as a preventative treatment, rather than a herbal support to use to spead up my recovery.  I'm hoping I don't need echinacea for an actual cold!  So far so good … I'm feeling my mouth tingling with the goodness!
Just a little information for you about Kiwiherb now – Herbalist and Pharmacist (now there's a potent mix of disciplines) Phil Rasmussen was the man with the vision for Kiwiherb as a range of premium quality herbal health products that were freely available to everyone.  Kiwiherb retails herbal health products sourced from Phytomed Medicinal Herbs Ltd, who are New Zealand's largest manufacturer of medicinal herbal extracts for practitioners.  They're 100% Kiwi owned, working out of Auckland.
I was interested to not Kiwiherb's commitment to Rongoa – Maori Herbal Medicine.  The Kiwiherb team embrace the wisdom of Rongoa and incorporate quite a few sustainably harvested New Zealand native herbs such as Manuka, Kawakawa, Hoheria, Horopiti and Tanekaha into their products.  These herbs have long been recognised for their valuable healing qualities.  It's great to see Rongoa becoming increasingly incorporated into preventative healthcare in Aotearoa.
I love Kiwiherb's commitment to quality standards; I love that this echinacea is sustainably produced and I just plain love echinacea.  Keep Kiwiherb in mind when you're out there in the big world hunting for your immune boosting support to keep those colds at bay.
To win a bottle of Kiwiherb organic Echinature' and Active Manuka Honey join Club Happyzine today!  All members of Club Happyzine automatically go in the draw to win one of two bottles of this high potency organic echinacea root extract with active manuka honey.
Charlotte Squire
Editor
Happyzine.
GD Star Rating
loading...
GD Star Rating
loading...
Tags: echinacea