Home » Environment
Good Energy Taxi catches good deeds on camera
Submitted by Charlotte on June 20, 2012 – 9:49 am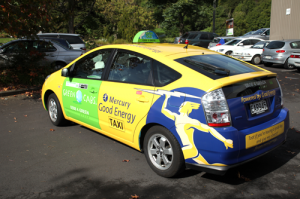 Mercury Energy Communications
MEDIA RELEASE
Good Energy Taxi catches good deeds on camera
Wednesday, 20 June 2012
Mercury Energy is once again celebrating the good energy of Kiwis by sending the world's first Good Energy-powered taxi out on the streets of Auckland and catching the good deeds Kiwis do for each other every day on camera: http://www.facebook.com/photo.php?v=10151050833461565.
The Good Energy taxi was a cab with a difference – rides were paid for not by cash or card, but by the good deeds of passengers.  Passengers rode for free by doing good deeds and boosting the credit on the Good Energy meter in the cab.
Passengers could do a whole range of things to give the meter a boost while they were in the taxi and people at home also kept the meter in credit by liking it on the Good Energy Taxi Facebook page or tweeting about it. The more Good Energy shared by passengers in the car and supporters online, the more free rides the taxi gave.
Mercury Energy General Manager, James Munro, says: "Powering a taxi using good deeds alone wouldn't work everywhere, but we believed Kiwis could pull it off, so we sent the bright yellow taxi out on the road for two weeks and the results certainly proved our point!"
The Good Energy Taxi is the latest initiative in the Mercury Energy Good Energy campaign.
GD Star Rating
loading...
GD Star Rating
loading...
Good Energy Taxi catches good deeds on camera

,
Tags: good deed