Home » Community
World-changer: Lani Evans – ReGeneration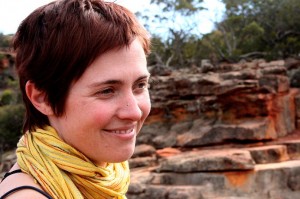 1.  Can you introduce yourself to our readers, just as if you were introducing yourself to a room full of like-minded people at a very welcoming meeting?
Kia ora! I'm Lani! I'm a Wellington based community and youth worker and I'm passionate about growing and supporting generosity, sustainability, community connection and active citizenship

I was born in Brisbane and moved to New Zealand eight years ago, ostensibly to make a rock climbing documentary (but really because I wanted an adventure). I spent my first year on the South island, hanging off cliffs with cameras and fell in love with Aotearoa! So much so that I recently became a citizen (woop!).
At the moment, I work full time for the ReGeneration Trust, a national community organization that supports young people to create positive social, environmental, cultural and creative change in their schools, communities, homes and the world. I'm also lucky enough to be a trustee of the Monarch Butterfly Trust and a volunteer for a bunch of different organizations.
In my spare time, I like watching good music, reading bad novels, tramping, climbing and pretending I know how to surf

2.  What are seven words your closest friends would use to honestly describe you?
Positive, determined, passionate, generous, active, optimistic and probably stubborn.
3.  What's your core mission in life – as in what do you always find yourself doing, regardless of the context or project?
I like making stuff happen. Sometimes it's big things, sometimes it's little things – but helping exciting ideas become exciting adventures is my big buzz.
4.  What kind of food do you like to eat right now and why?
I'm always passionate about vegan kai – the more local, the better. At the moment I'm digging soups and other delicious and wintery things

5.  What's one dream you'd just love to pull off, for New Zealand?
I'd love to see us instigate a kick-ass citizenship education programme for young people. I've got a vision for something holistic, experiential and really engaging – a way of connecting communities and learning about how we can participate more actively and effectively in our political systems.
6.  What's one pass time you seriously have to indulge in occasionally because it fills you up and recharges you?
For me there's nothing more humbling and awe-inspiring than stomping around in the mountains.
7.  Who are you closest to in your family and why?
I've been getting to spend lots of time with my Mum lately which has been ace. She's a rad lady and I've been really lucky to have her in my life.
8.  Who should be NZ's Prime Minister and why?
Ohh – good question! I'd love to see us have some co-leadership action

9.  What are three things you do to stay or become healthy and happy?
Adventures in beautiful places, hanging out with wonderful friends and remembering to relax.
10.  What core quality do you think New Zealand recognised and valued for, on the world-stage?
I think we've always been known for our innovation – women's suffrage, nuclear free, number eight wire … our ability to step out on a limb, take risks and stay true to our collective values is what I believe New Zealand is recognized for and it's something we need to work hard to hold onto.
GD Star Rating
loading...
GD Star Rating
loading...
World-changer: Lani Evans - ReGeneration

,
Tags: regeneration