Home » Arts
Support the completion of Our Green Roadie on PledgeMe
Submitted by Charlotte on July 14, 2012 – 3:05 pm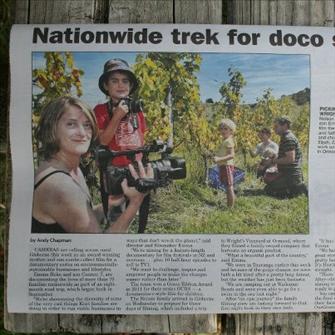 Support Our Green Roadie on Pledge Me
We're a little film team, award-winning filmmaker Emma Heke and her son Connor,
Making a big documentary, Our Green Roadie,
Set to inspire huge change, encouraging us to live our dreams for a better world.
We've done all the hard yards – research and initial writing (winter 2011), 7 months filming all around New Zealand (Sept 2011 to April 2012) and rough editing and rewrite (winter 2012) and this was all self-funded. With kiwi ingenuity and a lot of passion and heart we are ¾ done! We need your support to complete Our Green Roadie to the 'professional finish' it deserves by enabling us to employ an additional editor and sound engineer and then launch our marketing strategies to take our documentary into the public arena.
So, what's Our Green Roadie all about?
It's about sharing the challenging, inspirational and empowering stories of 70 kiwi families who have made decisions to work and live in Environmentally Sustainable and Economically Viable ways. They are all at different stages on their journeys and we're showcasing the diversity of things people are doing in the hope that this may be the inspiration we all need to create positive change in our environment and ourselves. We're dispelling myths about living and working 'green' and we're encouraging change and thinking outside the square.
What are you going to do with this film? We aim for hundreds of thousands of people to see Our Green Roadie. We're entering it in selected NZ and International Film Festivals and will also enable community screenings throughout New Zealand whether it's in independent theatres, school halls or a community leader's lounge! This is a film for everyone and we'll also release it on DVD and internet download!! (We also have plans for x 8 half-hour television episodes where we look at some of the people and practices in more depth, we already have the footage, watch this space!)
Have you made any films before? Yes, two. Both are documentary-style films for children and available on DVD www.oursdvd.co.nz . OURS (2009) won a Green Ribbon Award 2011, was In-flight entertainment on Air New Zealand international flights for 3 months 2010, screened on TVNZ6 as 18 episodes for 2 years and currently screens on Sky Kidzone24. It was sales of our DVDs that have enabled us to be self-funded for Our Green Roadie!
Why should I consider supporting what you're doing? By investing in the completion of Our Green Roadie you become involved in something huge and have the satisfaction of knowing that you've helped us share stories which can change lives. You will also be supporting a New Zealand film team and showing that you value New Zealand film content. Plus we have some unique rewards for you to experience as our way of saying 'thank you very much.'
Support the completion of Our Green Roadie for as little as $10.
GD Star Rating
loading...
GD Star Rating
loading...
Tags: our green roadie