Home » Green technology
Believing in the Green: Ian Montanjees's small, but significant 'moments' as he runs the NZ White Roofs project
Submitted by Charlotte on July 19, 2012 – 12:42 pm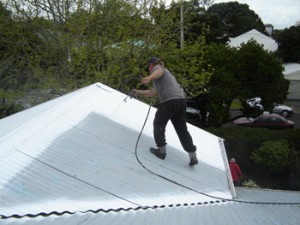 For all the green dreamers out there …
Ian Montanjees is developing the New Zealand White Roofs project.  Says Ian: "White Roofs is a simple idea offering one of the fastest and lowest cost ways of helping reduce global warming by mimicking how the polar icecaps reflect sunlight back into space and cool the planet, and also how buildings with air conditioning typically save money on electricity bills by having cooler roofs in summer, and for these reasons the Obama Administration is implementing white roofs on Federal buildings across the US."
As any one striving forward with a green dream knows, this project is taking huge amounts of faith, not to mention heaps of good old fashioned hard work!  Ian's progress is made up of small, encouraging moments such as this one, as described by Ian:
Here's a positive story in the making. I've been going to this cafe about once a day lately where there are like-minded people to me, where I type a lot, mulling on the project and other things I am working on. Some people there got to know about the white roofs project. The cafe is also into sustainability. Just yesterday, completely unexpected to me, when the owner heard more of the project and the critical situation of the project at this time he said they would do a short piece in their newsletter next week to customers, about the project and sponsorship, and not only that but also join in sponsoring my efforts by supplying me a free lunch and cup of tea every day until the end of the year. My golly, so generous. I'm gathering my determination to do all I can to creatively make it happen. Their healthy food will also help my body which needs a bit extra sustenance right now. I'm sure it's possible to find the sponsorship but I have to work through the ways. $30,000 to start the 18 months White Roofs campaign as the next step in the project is not all that much, really, but it's about finding the right matches. Their shop is an organic cafe combined with a whole-foods store and their Goodies Bookshop, in Newmarket, Auckland. You'd probably like it. It's called
Wise Cicada
Nancy, who is setting up a documentary on the project, is another live wire too. She is entering it into 
The Outlook for Someday
, sustainability film competition. She saw me give a Pecha Kucha presentation earlier this year. After reading some of what I had written she contacted the sustainability manager of Auckland Airport and will be filming part of the video interviewing him standing on the airports white roof! She has also arranged to interview Wayne Walker, chair of Auckland Councils Environment and Sustainability Forum – he is a keen supporter of white roofs and helped open doors at council. The video might be done this weekend weather permitting. I'll tell you when it's available.
Many thanks
Ian
GD Star Rating
loading...
GD Star Rating
loading...
Tags: white roofs