Home » Events
Mohua Sun – the band for social and environmental changemakers – to play at Nelson's Free House
Submitted by Charlotte on August 9, 2012 – 5:02 pm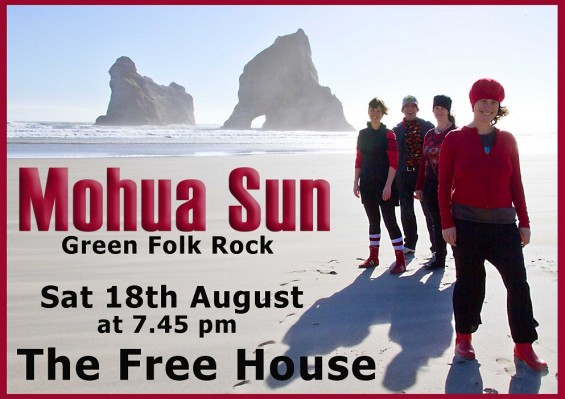 Making the world a better place can be exhausting at times right?  A Golden Bay based folk rock band are setting out to restore the spirits of people seeking to create positive social and environmental change, with uplifting 'green dance music'.
Mohua Sun, who perform up-beat, slightly quirky songs about love, the planet and society (and, um, goats milk), plan to woo, entertain and energise Nelsonians next Saturday, August 18th, in the Free House's 100 people yurt.
Says Charlotte Squire, lead singer of Mohua Sun, "our music's heart warming, inspiring, and people love dancing to it.  Our audience can expect to laugh, possibly cry, and if they're not too shy, they'll have an awesome time leaping out on the dance floor".
Charlotte says Mohua Sun aim for their music to be a balm to the soul of people who are seeking to make the world and environment a healthier, happier place.
"Nothing beats dancing to good, happy, soul stirring music.  It's one of the oldest forms of therapy – just relax and grove.  We have a lot of fun at our gigs."
The Nelson Free House gig starts at 7.45 on Saturday night.  Entry is free, all are welcome.
Charlotte, who is the Editor and founder of the good news website www.happyzine.co.nz, says she'd love to see Happyzine readers at the Free House.
Mohua Sun are scheduled to play in Wellington later this year, dates to be announced.
GD Star Rating
loading...
GD Star Rating
loading...