Home » Uncategorized
Wanted: Nominees to knock your socks off at the Attitude Awards
Submitted by Charlotte on August 9, 2012 – 4:05 pm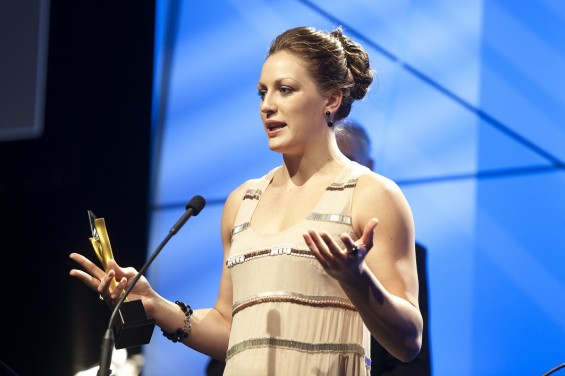 New Zealand's Sophie Pascoe – multiple Paralympic medallist and 2011 Attitude Award winner – has another swag of gold in her sights at the London Paralympic Games in August.  And she's just the sort of role model the judges are seeking for the Attitude Sport Performer of the Year at this year's Attitude Awards.
Attitude Sport Performer of the Year is just one of seven categories for the gala Awards event showcasing the achievements and aspirations of artists, advocates, athletes and everyday Kiwis living with a disability.  Judges are calling for nominations for this year's Awards and everyone is eligible to either nominate or be nominated.
Nominations for the 2012 Attitude Awards are open until August 15 with finalists chosen by an independent panel shortly after. Nomination forms can be downloaded from the Attitude website (http://www.attitudepictures.com/attitude-awards/award-entry-forms) emailed to helen@attitudeawards.org or posted to Attitude Awards 2012, PO Box 9071, Newmarket, Auckland, 1149.
Inspired by Attitude Pictures (TV One 8:30am Sundays), past recipients have included artists, musicians, Paralympic medallists, and shakers and movers within the sector.  But there are strong underlying messages that the creators of the Awards hope people will take away.
Attitude Award Trustee Dan Buckingham, who also lives with a disability, says the concept of the Awards stemmed from what the team could see as a lack of opportunities for people with disabilities to find meaningful employment.
"We were witnessing a whole generation of young people coming through school with a strong belief they could achieve alongside their able-bodied peers, then hitting a world with barriers and employers who weren't ready for them. We wanted to place people on pedestals and show that people with disabilities can not only live a 'normal' life but also achieve at the highest levels."
Hosted by Simon Dallow, this fifth annual gala event once again promises to provide performances that will raise expectations of what people with disabilities can achieve, along with the usual mix of entertainment, celebrities and awards.
Entrants will range from supreme NZ athletes to Kiwis whose family, friends and neighbours think they should be recognised for their courage, perseverance or support for people who live with disabilities.
There are seven categories in the awards: Sport Performer of the Year, Courage in Sport, Artistic Achievement, Youth, Spirit of Attitude, ACC Employer Award and the Making a Difference Award.
The ACC Supreme Attitude Award is selected from the category winners.
ACC Chief Executive Ralph Stewart says he always finds it inspiring when he reads the stories behind the nominees for the annual Attitude Awards.
"The finalists in the Attitude Awards have pursued life with a positive attitude, strength and determination," says Mr Stewart. "They demonstrate that with ambition and the right support it's possible for anyone to achieve their goals, regardless of the obstacles they face along the way."
ACC, Lion Foundation, New Zealand on Air, Westpac, Toyota, Drake Medox, Air New Zealand, Ministry of Health, Wayne Francis Charitable Trust and the IHC Foundation are among sponsors continuing their support.
GD Star Rating
loading...
GD Star Rating
loading...
Tags: sports