Home » Community
Kia kaha Bob! Cycling Aotearoa for the animals of the Christchurch SPCA
Submitted by Charlotte on August 14, 2012 – 3:22 pm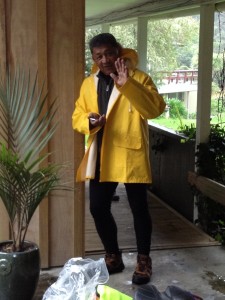 Sandra Daubney
Meet 70 year old Christchurch resident Bob Paniora, he's presently cycling the length of New Zealand.  Bob loves animals and has had pets most of his life.
Following the Canterbury earthquakes, Bob felt strongly about supporting the animals who had been affected by these events, so he decided upon a ride that would challenge even the most professional cyclists.
"It is well documented all the damage and chaos the earthquake caused in Christchurch and we continue getting all shook up. Our pets and animals suffered badly. Being an animal lover of all animals on this planet I decided to do a charity bike ride from the Cape to the Bluff to raise funds to help the  Canterbury SPCA continue the excellent work they do"
Modest with a good sense of humour Bob shy's away from talking about himself. Yet Bob's story is inspiring. Bob returned from serving in Vietnam with many health issues and then he had 2 heart attacks. So Bob decided to help his own well-being by using the knowledge he grew up with of the land, native NZ herbs and by deciding to get fit.
Sponsored by Shoreline Gym, he trained for 4 months for this ride. "It may-be my last ride" he said with a twinkle in his smile. Somehow we doubt that. As a spokesperson for the Canterbury SPCA said "This is an incredible feat and we are both humbled and honoured that Bob has decided to do this, in support of our animals".
Visit http://www.fundraiseonline.co.nz/Ride4theAnimals/ to make a donation today! Please share this with your family and friends – let's help Bob reach his goal of $5000!"
"Ï will be without a support crew so I will be relying on you the kiwi public to show me lots of aroha and help make this charity ride a success. Kia koha kia toha. Tihie mauri ora."
If you see Bob cycling pass in his bright yellow coat give him a wave (Present location on his way to Foxtown).
Another New Zealander making a difference.
GD Star Rating
loading...
GD Star Rating
loading...
Kia kaha Bob! Cycling Aotearoa for the animals of the Christchurch SPCA

,
Tags: cyclng