Home » Youth
Our teens aim to challenge poverty – starting with their own communities
Submitted by Charlotte on August 14, 2012 – 11:35 am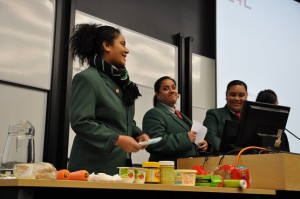 SEC Press release
FOR IMMEDIATE RELEASE
13 August 2012
Our teens aim to challenge poverty – starting with their own communities.
Youth charity, P3 Foundation, has just completed its third annual Social Enterprise Competition (SEC). SEC is a social entrepreneurial challenge that aims to create change agents and future leaders of social innovation.
Year 12 students Nerisa Foisaga Sue, Violet Rawiri, Tasi Nofoaiga and Kativi Lausi'I, the 2012 winning team from Aorere College in South Auckland, were tasked with coming up with a workable and sustainable solution to one of the United Nations Millennium Development Goals (MDG). They picked the goal of 'eradicating extreme hunger'.
The business students from Aorere College will use their $1500 prize money to help tackle poverty in their own community in South Auckland. Save the Children will also sponsor the team to fly to Wellington in November to present at their annual conference.
P3 Foundation CEO, Shruthi Vijayakumar describes the competition as "a platform for secondary school students to channel their creativity, innovation and energy to make a difference. Ultimately, the initiative develops young leaders who are committed to creating a better world – and it is these people who will shape our future".
While many of the other teams chose to focus on international pursuits, the Aorere College business students recognised that many of the problems associated with poverty existed within their own communities. "Many young primary school kids in our own community go to school with unhealthy lunches or have no lunches at all due to the low income in their families."
Their winning idea was the L4L – Lunches for Less – campaign. Their plan is to deliver informative, hands on and fun workshops to year four and five students in Decile one primary schools all around South Auckland. Their goal is to show the children how to make healthy lunches on a budget of under two dollars a day. As well as helping the primary school students, they will also be educating them on kids their own age that have to live off just over $2.00 a day (the international poverty line).
They were inspired by their community. "The families in our community inspired us to make a change. As young primary school kids, L4L would've definitely helped not only ourselves, but our families too. Keeping L4L in our community is what makes it unique. We are solving an issue in our homes before we go worldwide.
"As a group, we were inspired by a quote from Lao Tse' 'If you tell me, I'll listen, if you show me, I'll see, if I experience it I'll learn."
Key sponsors and supporters of SEC include Save the Children New Zealand and Ministry of Youth Development.
GD Star Rating
loading...
GD Star Rating
loading...
Our teens aim to challenge poverty – starting with their own communities

,
Tags: changemakers, Youth