Home » Uncategorized
Comedian Ewen Gilmour Recognised with Presidential Citation from Variety International
Submitted by Charlotte on August 29, 2012 – 9:08 am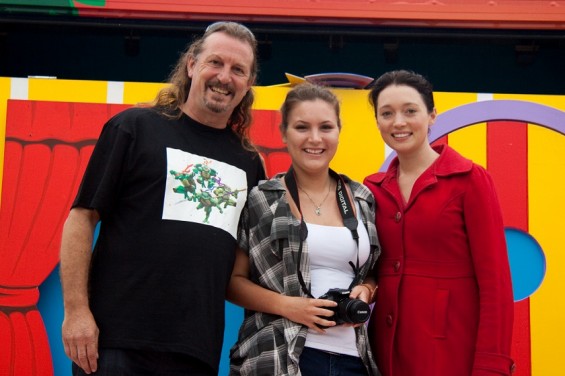 COMEDIAN EWEN GILMOUR RECOGNISED
WITH PRESIDENTIAL CITATION FROM VARIETY INTERNATIONAL
Popular comedian and much-loved Variety New Zealand Ambassador, Ewen Gilmour has been honoured by Variety – The Children's Charity with a Variety International Presidential Citation. These awards are given annually in recognition of individuals who have made an outstanding contribution to a local Variety chapter.
Each year Variety supports over 10,000 sick, disabled and disadvantaged Kiwi kids, their families and communities. When the Government or other organisations cannot help, Variety can.   From much-needed medical equipment, to life-changing mobility needs, to innovative educational initiatives – Variety raises money to ensure deserving Kiwi kids can reach their full potential.
"We are thrilled to formally acknowledge Ewen's commitment to creating brighter futures for disadvantaged Kiwi kids.   Ewen brings his unique sense of fun to everything he does and no job is too small or large – from shaking a bucket to being a Master of Ceremonies.   His generosity, compassion and character make him an ideal candidate for this prestigious acknowledgement," said Lorraine Taylor, CEO, Variety – The Children's Charity.
A much-loved participant of the annual Variety Bash, Ewen has attended 16 Bashes and can often be found helping Bash teams fundraise by donating his time as a comedian for their events.  Ewen totally embodies the spirit of the Bash – great fun, a bit irreverent and totally committed to helping Kiwi kids.
"I am thrilled and humbled to receive this award," says Ewen. "The thing I love about Variety is that every dollar raised at the various events and activities throughout the year, including the annual Bash, benefits Kiwi kids.  I also love the camaraderie that exists amongst Bashers.  This is a very real way I can contribute to making the lives of people we meet just that little bit better."
GD Star Rating
loading...
GD Star Rating
loading...
Tags: comedian