Home » Uncategorized, Youth
Positivity and praise changing lives in Wellington foster care service
Submitted by Charlotte on August 31, 2012 – 9:08 am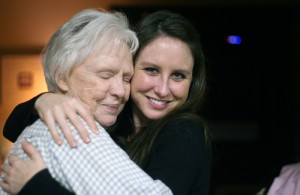 Born to be a mom
From the age of 14 Sue had decided all she ever wanted was to be a mom and after raising four children of her own, (now aged between 22 and 29 years,) and six grandchildren, she decided to go a step further and become a foster mom.
The decision to care for foster children came after Sue was recovering from a major illness that had seen her sidelined for over 2 years, "I was slowly getting my health back when had an 'oh my God' moment after seeing a Wesley Community Action advertisement in the local paper seeking Foster Parents. I just knew… I felt this was right for me. It was perfect timing," recalls Sue. "I think I was born to be a mom….foster care found me, I didn't find foster care."
Within weeks of responding to the advertisement, Sue was involved in the 'transitioning' of a young person into her home and her health woes were put behind her.
The transitioning process involves several meetings with the young person, gradually building up to them staying with the prospective Foster Parent for short term stays on a 'trial basis.' No 'placement' of a young person into a Wesley Foster Care home is made until both the family and the young person are happy with the match and get
on well together.
In Sue's case the first young person she was introduced to as a potential foster parent had been removed from her 9 other siblings because her mother couldn't
manage to care for all of her children. When Sue first met M, she was 14 years old and had been a resident in a Child, Youth & Family secure residential 'lock-up' unit
for 9 months with had a reputation as a 'runner.' (A runner is the description given to a young person who repeatedly runs away from the foster care home in which
they are placed.) Wesley Community Action is often seen as the 'placement of last resort', the only agency willing and capable of to tackling the toughest cases.
Sue recalls that after this and other transitional meetings M announced she was ready to make some changes, saying to Sue, "I knew I was ready when I first met
you."
When M finally came to live with Sue and her family, she found a big bustling household. Not only were there the comings and goings of Sue's 4 children and 6
grandchildren, there were also 4 dogs in residence and Sue's 83 year old mother living with them. "It's my passion to have people around me…. my home may not be
the cleanest, but it will always be the warmest," smiles Sue.
"M and my mother got on very well," says Sue, "there is lot of respect, M always helps pull out a chair and helps my mom to sit. There is a strong bond between them."

"Strength Based is a natural for me," says Sue, "I'm naturally positive, I like working on their strengths…. when M first came she swore she would never wash dishes, we didn't make a big thing of it, but instead worked on positives and praise. Before long M was contributing around the house, hanging up clothes, tidying up, and yes, even doing the dishes."
"We can never change their pasts," says Sue, "but we can show them a better way."
The role of Sue's husband Greg, is also vital. Theirs is a long relationship, they first met as friends when Greg was 10 years old. "He was my best friend then, and he
is now." Sue smiles and continues, "I've been married 3 times…..each time to the same man…. we renew our vows every 10 years."
"I play both the 'good cop' and 'bad cop' roles." says Sue, "while Greg is just there, he is great support, a sounding board if I ever need to unload or need to share."
"What you see is what you get with me," explains Sue, "I'm very emotional, I give a lot of myself, and the young ones respond well, they would know straight away if we
are not genuine. If I'm pissed off, they will know it."
Recently, Sue gained valuable feedback into how far M has come. It happened after M's progress stalled and she got involved with another young person who in turn got
them both into trouble with the Police. When Sue showed her distress with tears, M comforted her and said, "It's OK…. I'm not doing this again."
M has spent the last 2 years in Sue's home; she is 16yrs old now and when she turns 17 she will be free to leave. However Sue is hopeful that she will stay. "M is
doing a course….. she wants to be a hairdresser, but she will be part of our family forever," smiles Sue.
In the meantime Sue is about to be a mom again, and is already transitioning the next young person into her home. "I'm passionate about the need for foster parents…. I've never worked in such a supportive environment……. Every day I'm learning from these kids and who could ask for more?"
Anyone interested in becoming a foster parent in the Wellington region, should contact Sarah Packman at 04.805.0880
Peter Mitchell
Manager, Communications & Fundraising
Wesley Community Action   |    Community Compassion Change
P: 04 805 0876  |   F: 04 382 8054
PMitchell@wesleyca.org.nz
www.wesleyca.org.nz
75 Taranaki Street, Te Aro, Wellington 6141
GD Star Rating
loading...
GD Star Rating
loading...