Home » Green technology
New high rating green building boosts wellness and success rates amongst staff
Submitted by Charlotte on September 5, 2012 – 10:48 am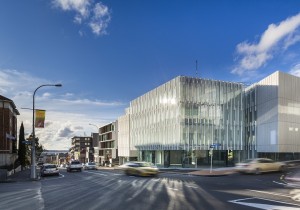 PRESS RELEASE – 4 SEPTEMBER 2012
LONG AWAITED 6 GREEN STAR GEYSER BUILDING IS OPENING ITS DOORS
Green walls, passive heating and 100% fresh air – the first building to be awarded a 6 Green Star rating in New Zealand is ready for business.
Located in Parnell, Auckland, the Geyser building has set a new benchmark for environmentally sustainable design, earning its 6 Green Star – Office Design certified rating from the New Zealand Green Building Council in late 2009. Designed by Patterson Associates and owned by Samson Corporation; Geyser boasts a spacious retail floor, 24 offices and a 165 car stacking machine. Samson Corporation General Manager Marco Creemers says Geyser takes sustainable design to the next level.
"It's not only architecturally innovative, it offers huge cost-savings for businesses with an impressive range of green features and a workplace to be proud of," he says.
A 6 Green Star certified rating represents world leadership in the Green Star building rating system, which was developed to assess environmentally sustainable design initiatives, says New Zealand Green Building Council's CEO Alex Cutler. "Businesses here will be making a statement about their commitment to staff, customers and the planet. Much of the focus of green buildings is on benefits such as energy and water savings but just as important is the quality of the working and living environment," she says.
International research shows improving the quality of the workplace boosts productivity and reduces sick days. "Geyser promotes environmental, cultural and social well being," says Marco Creemers. "The buildings are positioned around a courtyard and there's a system of atriums with pedestrian linkages to promote networking and a sense of community."
Other features include state-of-the-art eco-technology that enables the building to heat itself by trapping warm air between its walls in the winter, whilein summer the entire outer skin opens electronically for full ventilation. It also has an automated car-stacking machine that actually parks your car for you. "You park in a virtual garage and then a turntable spins the car around, loads it onto a lift and takes it to an available space," says Mr Creemers.
"You just swipe your card when you come back and the machine finds and returns your car to you." Geyser's range of high-tech, sustainable features mean inhabitants can benefit from
GD Star Rating
loading...
GD Star Rating
loading...
Tags: green design