Home » Uncategorized
Opportunity for Senior New Zealanders to be recognised and rewarded
Submitted by Charlotte on September 19, 2012 – 4:36 pm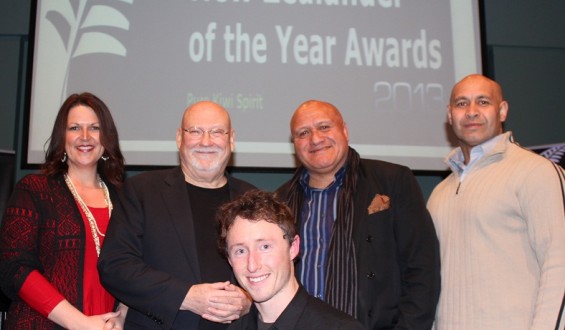 Opportunity for Senior New Zealanders to be recognised and rewarded
Nominations are being sought from around the country for the Countdown Senior New Zealander of the year as part of the New Zealander of the Year Awards 2013.
This Award is open to individuals aged 60 and over, and recognises the contributions mature people continue to make to their communities and the nation.
Nominees for the Senior New Zealander of the Year Award could be a parent, grandparent, neighbour or a business colleague. They could be involved in business, sport, arts, education, clubs, and community groups or volunteering and will have contributed to the welfare of our nation through achieving excellence in their chosen field of endeavour;  they will present a significant, positive image of aging and be a role model to the wider community.
New Zealander of the Year Awards Manager Emma Mcdonald is encouraging all New Zealanders to nominate someone 60 years of age or over for this prestigious award.
Miss Mcdonald says "There are so many older New Zealanders who are and for many years have been making exceptional contributions to their communities and our country and these people deserve recognition for their commitments".
"Already the Award office is receiving nominations from throughout the country for some amazing, energetic and busy senior people!" One of these is Beatrice Yates known as Aunty Bea of Rotorua. Aunty Bea has been a school teacher in Rotorua for over 50 years & is a renowned educator with a strong belief in 'Education for Life' and the holistic well being of a person. She established & ran the 'Awhi Room' or Soup Kitchen at Rotorua Lakes High which apart from providing daily hot food for 20 years, also provided a loving, welcoming, safe room for any student. She is prominent in instigating & currently involved in the Rotorua Primary Schools Festival – which is one of the biggest in New Zealand – since the 1960s.
Another outstanding nomination received for this category is for Margaret Clark of Porirua.
Margaret has spent her whole adult life working voluntarily for her local Cannons Creek community.
The current 2012 Senior New Zealander of the Year is Malcolm Cameron of Dunedin is passionate about giving young people as many chances as necessary until they connect with their dreams and is concerned with the lack of job prospects currently available to them. As a result Malcolm founded the Malcam Charitable Trust in 1985.
He has since achieved considerable success in working with at-risk and disadvantaged young people.
Through establishing the Trust, Malcolm has created programmes that not only introduce young people to the world of employment, but also include community service components, education, life skills and challenging outdoor activities in the Otago Region.
The winner of the Countdown Senior New Zealander of the Year will be awarded their trophy and $5,000 prize money at a gala Awards presentation dinner in Auckland on the 28th February 2013. All nominees will receive a certificate of achievement or encouragement in recognition of their contribution.
Nominations close on Friday 12th October and nomination forms are available from Countdown Supermarkets, Kiwibank, Mitre 10 branches or by free phone 0508 692 927. You  can also nominate online at www.nzawards.org.nz.
GD Star Rating
loading...
GD Star Rating
loading...
Tags: award, new zealand