Home » Events
Catch an Early Bird Ticket to Luminate 2013!
Submitted by Charlotte on September 21, 2012 – 10:17 am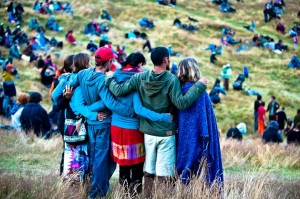 PRESS RELEASE: For immediate release 17/09/12
Contact: jules harper – info@luminatefestival.co.nz
Catch an Early Bird Ticket to Luminate 2013!
Luminate Festival, 30th January -6th February 2013, Canaan Downs, Takaka Hill, New Zealand.
Luminate is an earth-friendly festival of music, arts, culture, inspiration and sustainability.
Early Bird tickets to Luminate Festival 2013 are now on sale, and you can save $65- $95 by buying your tickets early! There are two rounds of these special offer tickets available, with limited numbers, so its worth moving fast if you need to make the most of the discounted prices.
And did you know? We have extended the age of youth tickets to include 18 year olds this year!! This means all teenagers 14-18yrs can buy a youth ticket. Children (13yrs & under) and Seniors (75yr+) can attend for free. An awesome deal for families.
Luminate 2013 will once again run for 8 blissful days, with 5 zones of music packed full of international & kiwi artists, and 5 zones of workshops to inspire and empower you. This family-friendly event also features the Juggle-poi-toy circus zone, lively market, organic food, Healing hub, enlightening movies, and plenty of activities for all the children. Also renowned for a range of environmental initiatives and even life-changing experiences, Luminate is, at the very least, a great place to have a revitalizing holiday, make new friends and find people that think like you do. (See summary, next page, for more info on what's on offer).
The enchanting environment of Canaan Downs, nestled up in the hills, surrounded by native beech forest, is an amazing venue for gatherings, and has recently been a Hobbit film location. Luminate Festival Trust is honoured to be part of the Canaan Collective who are now kaitiaki-guardians of this iconic land, and we're very grateful to all who donated to our fundraising appeal, so that we could achieve this.
Luminate's environmental initiatives permeate all strands of the festival, and many aspects are working examples that anyone can utilise in their daily lives –composting toilets, building with natural & recycled materials, waste minimisation, eco solutions for hot water and showers, earth oven cooking, re-using
resources, solar power, and lots more.
"We believe that festivals have always played an important role in building resilient, self reliant communities that can thrive for future generations." (jules harper, festival co-director).
Festivals enrich the cutural diversity of a region, and create a wide range of opportunities for participation, networking and social interactions. Knowledge-sharing aspects can empower people with skills to improve their quality of life and benefit the wider community. Luminate also offers a unique chance to enjoy a diversity of world-class music, and creates a space for the celebration of life whilst reconnecting with nature in a loving and respectful way. Luminate connects ancient traditions of gathering and celebration with the present, and invites us to activate earth-friendly, co-creative communities worldwide.
Tickets to Luminate 2013 cover camping for 8 days, admission to the festival, entrance to all workshops, access to all activities & amenities, plus a contribution to the sustainable land management of Canaan Downs.
"Early Bird, youth, children and senior tickets are subsidised by Luminate Festival Educational and Spiritual Trust, with additional support from our funding partners which we very much appreciate." (Rita Davies, Trustee & festival co-director)
Early bird tickets are the best value if you want to keep your options open or have to arrive a couple of days late. Most people arrive early, gates open on 30th Jan, which is a settling in day only, a time to set up camp and tune into the beautiful land. Workshops and music start on 31st Jan.
GD Star Rating
loading...
GD Star Rating
loading...
Tags: luminate