Home » Maori
Te piki maunga – Climbing mountains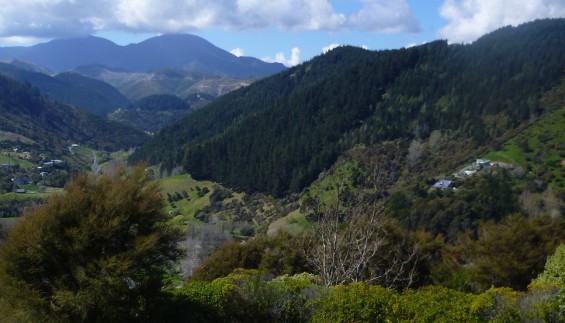 With each new place I live in from Manukau down to Dunedin, to Whangarei, and now Nelson, I have been drawn to climb the nearest local puke or maunga (hills or mountains) of the region. On this beautiful Sunday I was among others who travelled the uphill with their family, or friends, or on their own. The Centre of New Zealand in Nelson is definitely a spot worth the hike.
Being atop the Centre gave a moment to reflect on the natural pathways that are easily forgotten. The high mountains and natural forests are the sources for waterways that extend from the heart of the highest peaks to the rivers, the streams, across the land out to the sea and greater ocean. These places are important in their connection to each other, in the continuous flowing of energy from one point to another.
For tangata whenua, a person has a specific pepeha that he presents orally when formally introducing himself. A pepeha describe a person's original connection to their ancestral land in Aotearoa. This also shows connections to their current surroundings of people and place. The most important part of the pepeha is the natural environment, the living beings that surround our homeland such as the mountain or hill, the river or lake or sometimes sea, the common waka of arrival, the marae, and lastly tribe and extended family ties of sub-tribe.
These 'common spaces' are significant to all New Zealanders and I am thankful to have been given the opportunity to use these tracks. Whether in pursuit of higher fitness, or to be blown by the wild winds high above, it is relaxing and energising, and enjoyed by many.
I hope that you all have enjoyed a weekend of sunshine from Tamanui-te-rā. If you wish to share any good news with us, feel free to add a note onto the page or email
Ngā Manaakitanga,
Nā Ani
GD Star Rating
loading...
GD Star Rating
loading...
Tags: Maori