Home » Green technology
Awards shine light on energy-saving innovator
Submitted by Ly on September 26, 2012 – 5:50 pm
Media Release – for immediate release
Kudos finalist Nihal Kularatna is out to curb the appetite of our power-hungry electronics.
As a child in Sri Lanka, Nihal Kularatna was intrigued by the simple switch system controlling flashing lights on the decorative panels displayed during the Buddhist festival of Vesak. This fascination led to an incredible career as a practical and creative electronic engineer, a prolific technical writer and a noted researcher.
Kularatna's experiments with electrical circuits started early. "When I was six, I would collect batteries, bulbs and empty thread spools to light my own mini Vesak panels…I would dig in the garbage bins of radio repair shops for discarded components to play with. By the time I was 10, I was using step-down transformers instead of batteries, which were expensive, and by intermediate age I was incorporating toy motor-driven flashers into my designs."
"Build and try" remains Kularatna's mantra and is, he feels, the best route to innovation. "I believe in the brain's ability and practical work rather than depending too much on software tools," he says. "Use your fundamentals and go on a step-by-step approach with prototyping. You may come up with great creative ideas."
This has certainly proved true for Kularatna, a finalist in the Hill Laboratories Science Entrepreneur category of the 2012 Kudos Awards for his research at Waikato University into supercapacitor applications.
Kularatna has been Senior Lecturer in Electronic Engineering at Waikato University since 2005 while exploring how supercapacitors can enhance the efficiency of DC-DC converters. These converters are commonly found in the electrical circuits of computers and many other domestic and industrial appliances.
 His novel energy-saving technique (supercapacitor-assisted low dropout regulators or SCALDO) was granted a US patent in 2011 and opened up a new research and development area. Kularatna and his team are also using supercapacitors to help absorb high-voltage surges created by lightning events and power dumps (supercapacitor-assisted surge arrestors or SCASA) and developing surge-resistant uninterruptible power supplies (SRUPS).
Kularatna is currently working with the university's commercialisation arm WaikatoLink Ltd, American technical marketing company Anagenesis and Australian manufacturer Thor Technologies to take his SCALDO and SCASA approaches to market.
These are just the latest bright ideas in Kularatna's career. His passion for invention, sparked by those twinkling festival lights, has been a constant companion. After graduating from university and a brief stint lecturing, Kularatna satisfied his practical bent by becoming a ground services electronics engineer at Sri Lanka's Department of Civil Aviation. By 'day' he applied himself (and his minimal equipment kit) to maintaining the Department's 'monster' message switching system and later to the installation of radio navigation beacons, including a challenging project to ready the system that guided Queen Elizabeth's plane safely into Sri Lanka's international airport in 1981. By 'night', he designed a bench power supply from first principles in his simple home laboratory.
 This project informed his first academic paper, accepted by the prestigious British publication Electronic Engineering in 1978. Subsequent research articles appeared in its American counterpart Electronics in 1980 and 1981: a rare achievement for an author with no post-graduate degree or research supervisor.
Kularatna has since contributed over 80 articles to science. But it was the success of these early publications that gained him a position as Research and Development Engineer at Sri Lanka's newly-established Arthur C Clarke Institute for Modern Technologies (ACCIMT) in 1985. His 25-year career at this national centre for R&D and training in electronics, micro-electronics, telecommunications, IT, space technologies and robotics, culminated in a two year spell as its Director/CEO.
One of his first jobs was to develop the Institute's laboratory infrastructure, learning about the capabilities of many new test instruments and, critically, how to fix them (saving the cost of shipping to overseas service centers). He used this experience to develop a continuing professional development course, the first of a set which contributed significantly to the Institute's income during the 1990s. This in turn led to his self-confessed addiction to technical writing.
In December 2011, Kularatna's seventh book was published in the US. Along with a thank you to wife Priyani and daughters Dulsha and Malsha, its dedication acknowledges the support of Sir Arthur C Clarke (futurist, author and ACCIMT patron) and Professor John Robinson Pierce (the Bell Labs engineer who named the transistor) for Kularatna's early writing efforts.
"When I got my first book contract he [Clarke] wrote a preface for it, even before I commenced finalizing my first chapter!" recalls Kularatna. "John gave me the best career advice I ever got. First if you can't summarise the contents of your book on the back of a business card then don't start it. Second, be prepared to be rejected by publishers but don't lose courage." Advice Kularatna clearly heeded in a career as fascinating and colourful as the lights that inspired it.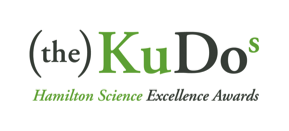 The Kudos – the Hamilton Science Excellence Awards – were launched in June 2007 and are now an annual celebration of local scientific innovations impacting the Waikato region, New Zealand and the world. The awards, hosted by Te Radar, will announce winners in seven categories including, Agriculture, Environmental, Medical, Education, Entrepreneur, Emerging and Lifetime Achievement.
For more information see www.thekudos.org.nz or contact Soteria Ieremia at soteria@thekudos.org.nz
Media contact:
Soteria Ieremia 
The Kudos Project Manager
027 282 5571
GD Star Rating
loading...
GD Star Rating
loading...