Home » Community
Local Hero – Recognition for Ranui Resident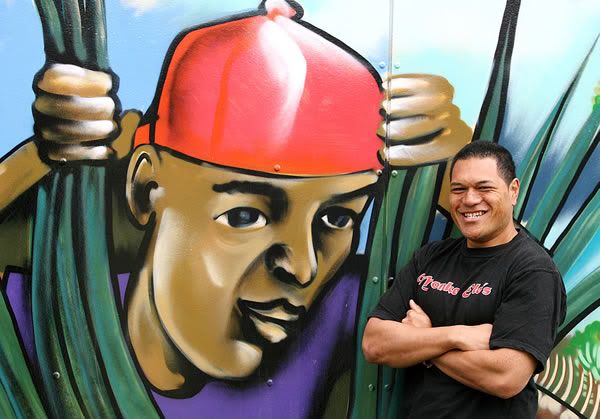 Rob Luisi does not know what a "too hard" basket is. Being renowned throughout the Ranui area, the respect shown by the youth, young adults, and indeed all of Ranui towards Luisi are evidence of his dedications and characters.
Rob has been supporting the Youth of the Ranui Community for many years. He has volunteered and led a youth club where he encourages the youth to participate in social sports. He has developed and delivered school programmes to at-risk children and teenagers, while supporting numerous community events on a regular basis.
Luisi has developed many of Waitakere's young leaders through his guidance, passion and commitment to their achievements.  He has always put his hand up to the "too-hard youth" that others would have potentially or possibly turned away.
All the children in the Ranui Community know Rob. By his hand-on approach, great sense of humour and humble nature, he has been building lifelong relationships with the community. Not only he delivers programmes to schools, but also runs trainings for everyone to attend. Considerably, through fundraising he has been able to take youth and adults to various sports camps. Rob Luisi is evidently an inspirational Kiwi who has given so much to the Ranui community.
For all of his hard works and like many other inspirational Kiwis, Rob never asks for a recognition. Venus Rangi from Sport Waitakere believes that Luisi deserves  acknowledgement and reward for his long-lasting contribution to the Ranui Community and nominates him for the New Zealander of the Year Awards. Rob will be rewarded for his years of selfless hard work.
All Local Hero nominees will receive medals at regional public presentations throughout New Zealand in November and the semi-finalists in all categories will be announced in December. The winners will be revealed at a Gala Awards event on the 28th February 2013.
To have your say on a local hero in your community, nominate online at www.nzawards.org.nz, http://www.facebook.com/newzealanderoftheyear or phone toll free 0508 692 927. Be quick! Nominations close on October 12th.
GD Star Rating
loading...
GD Star Rating
loading...