Home » Green technology
Biodigest this!
The Motueka Community Gardens hosted a biodigester workshop attended by more than 50 people over the weekend.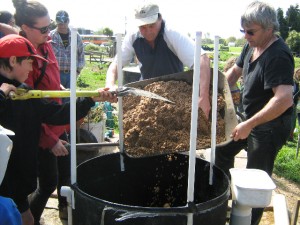 Biodigestion is a way of using the natural gas from green waste, and down at the gardens we will use our biodigester to fuel a BBQ. This will be great for summer events, like the Children's Sunflower day, where being able to share food together is important.
Interest in biodigesters began when a local climate change action group, 'The Renewables', organised a tour in neighbouring Nelson. First on the tour was the York Valley Landfill in Nelson where methane is collected and piped to Nelson Hospital, avoiding the burning of coal. Next was a visit to a small biodigester at the Nelson Environment Centre and so began a journey which has resulted a in a growing interest in the technology which is simple, safe, and energy saving.
Tara Forde, one of the founders of the Motueka Community Gardens, was struck by the wastefulness of buying and setting up LPG gas for a harvest celebration held at the gardens.  Dangerous fossil fuels extraction techniques such as fracking and deep sea oil drilling are being used to produce energy, when there are alternatives. "I wanted to find out more about these biodigesters." she said. She connected with Bill Rucks who travels around developing countries, helping to set up biodigesters which provide on-site fuel and avoid the need for fossil fuel extraction. She started talking to him about the possibilities of installing a biodigester down at the Motueka Community Gardens. After consultation with the Gardens Trust, funding was applied for from the Tasman District Council as an environmental project showcasing best practice to the community.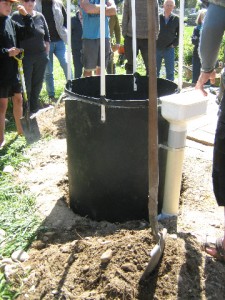 Says Tara: "As long as it does not incentivise methane production in any way, I want to see better capture of methane – from landfills, sewage plants, and milking sheds. I am hoping that through having the biodigester at the gardens, individual households will see how they can be using a biodigester. The BBQ at the gardens is only a show piece, actually people could have biodigesters that provided all their hot water, their lighting, and cooking needs. "
"This project is a great potential DIY project, google it and work out your design. We went with Bill Rucks because we wanted to be absolutely sure to get it right. On a larger scale, how about organising a local tour and seeing what methane capture is going on in your area? We need to be promoting clean technology, and localising the solutions is important. We can find mutual inspiration for ideas about better ways of powering our planet."
GD Star Rating
loading...
GD Star Rating
loading...
Tags: green design