Home » Uncategorized
Top teenage talent recognised by Youthtown Creatifs Young Designer Awards
Submitted by Ly on October 11, 2012 – 1:54 pm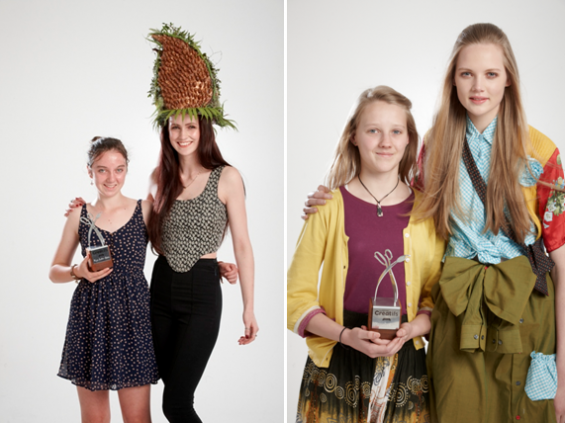 A 13 year old from Canvastown in the South Island and a 14 year old from Porirua are the two Supreme Winners in the Youthtown Creatifs Young Designer Awards.
Miya Austin-Dobie and her innovative "Cicada City" headwear entry (left) won the Wearable Arts category and Hanne De Ridder's eclectic ready to wear outfit won the Fashion Design category in this inaugural youth competition. Wearable Arts entrants created a hat inspired by the theme "everything old is new again". Miya's winning design, "Cicada City" was created from a range of recycled materials and decorated with multiple cicada shells along with native flora and fauna. A challenge for Miya was the lack of mains power in their family home which required Miya to power up the generator every time she needed to use her hot glue gun. 
 The judges commented that Miya's design integrated the theme in an innovative way, and were impressed by the shape and texture of her hat, along with the use of nature.  
Hanne's entry in the Fashion Design category (right) was a colourful combination of recycled fabrics and materials influenced by Belgian fashion designer Dries Van Noten. She used five individual pieces of recycled clothing, all different fabrics, which she re-styled and combined to create her winning outfit.
Youthtown Creatifs judge and Senior Fashion Lecturer at AUT's School of Art & Design, Lisa Lloyd-Taylor described Hanne's winning entry as unexpected, playful and personality driven.  "The very individual and quirky nature of Hanne's design demonstrates huge promise for a young fashion designer," says Lloyd-Taylor. "Her sense of self came through in her design and in her individuality".
Youthtown's CEO Keith Thorpe says: "Youthtown is about inspiring young people to realise their potential through physical, social and creative experiences.  We hope the young winners in our Youthtown Creatifs Awards have been inspired to express who they are, what they think and what influences them. Miya and Hanne have both captured this with their wonderful creativity, individuality and resourcefulness". Hanne's Youthtown Creatifs prize includes a Brother sewing machine/overlocker package and a $500 voucher for designer dress fabrics. Miya has won an iPad and a $500 voucher for art supplies, and both young designers have also won a trip to Auckland to meet the judges and to enjoy a range of experiences that befit budding design talent.
A 1960s inspired bathing cap was recognised by the judges as a highly commended Wearable Arts finalist. Created by 16 year old Zoe Littlejohn from Whangarei, the cap is covered in flowers crafted from wallpaper from a 1920s built house.
A funky, fur and toggle trimmed jumpsuit created by 14 year old Grace Ligairi from Tikipunga, Whangarei, was recognised by the judges as a highly commended Fashion Design finalist.  
The Youthtown Creatifs Young Designer Awards will run again in 2013 and will be open to all 13 to18 year olds who are passionate about art, fashion and design. The Awards provide a fantastic opportunity for aspiring young New Zealand designers to embrace their creativity and showcase their talents.
GD Star Rating
loading...
GD Star Rating
loading...