Home » Arts
Launching Pink Ribbon Calendar Girls
Submitted by pledgeme on October 25, 2012 – 7:04 am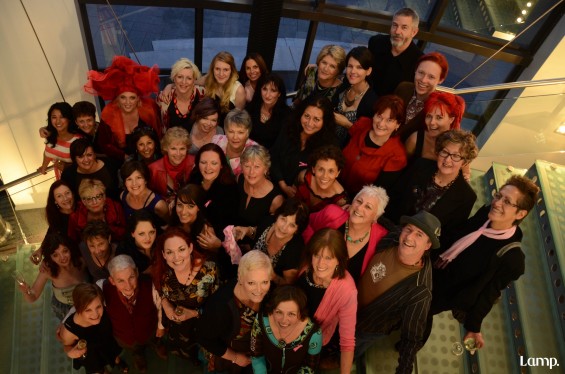 There were a lot of smiling faces at the Pink Ribbon Calendar girls launch party last week.
The launch celebrated the successful crowdfunding and publication of the Pink Ribbon Calendar, created by Liz Oliver, an Auckland business woman and breast cancer survivor, and Anna Molineux, a professional body painter. Liz and Anna, along with a cast of models, artists, and supporters created the "Pink Ribbon Calendar Girls" – a collaborative art project body painting NZ women affected by breast cancer and turning the resulting artwork into a high quality 2013 calendar. The "Calendar Girls" ranged in age from 28 to 70 years old and include well-known Kiwis Jools Topp, Helena McAlpine, Liz Mitchell, Kat Wong, Anne Thorp and Hinewehi Mohi.  ALL of the women have been affected by breast cancer.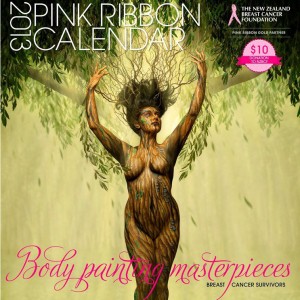 The team behind the calendar wanted to create the calendar to increase awareness about breast cancer in NZ and to raise $100,000 for the New Zealand Breast Cancer Foundation (NZBCF).   However, they needed $10,000 first to cover print and production costs and to get it off the ground! So, they turned to their crowd for support, and got it.
Over the period of a month they created a bit of a media hit through Facebook, twitter, radio and further and raised the costs to produce the calendar.
The calendar was launched last week at an exclusive event in Auckland and coincided with the start of Breast Cancer Awareness Month.  "Everyone was just buzzing and the life size calendar images around the room were a hit.  Over 200 people turn up! We are so proud of all our calendar girls, models artist and team and all the wonderful people who have got behind the project – it really is incredible.  Now roll on calendar sales!"
[Photo Credit: Leisen Standen - Lamp Photography]
CHECK OUT EAT MORE ENERGY – HAPYZINE'S NOVEMEBER  ONLINE RAW FOOD COURSE
GD Star Rating
loading...
GD Star Rating
loading...
Tags: plwsfw mw