Home » Club Happyzine, Featured
Check out: Lifestream Spirulina Blue
Submitted by Charlotte on October 26, 2012 – 10:14 pm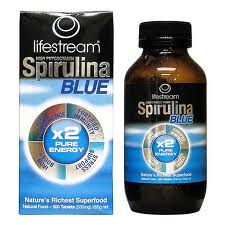 For those of you who are Lifestream or spirulina fans, check out Spirulina Blue.
It tastes good and it's loaded with goodies such as bioavailable Phycocyanin, Vitamin B3, GLA and Zeaxanthin.  So this means it's great for people who are under increased stress, are immune compromised or just needing extra energy.
This product's for busy people who want to maintain good health.  It can also help with providing natural formula rich in vitamins, minerals, antioxidants and Essential Amino Acids will provide optimal nutritional support as well as support muscle recovery and reduce oxidative stress in the body.
Spirulina Blue contains significant ammounts of Phycocyanin.  Phycocyanin is said to "boost the immune system supporting its ability to function in spite of stress from environmental toxins and infectious agents.  With the added benefit of GLA and Vitamin B3, Phycocyanin helps to protect the liver and support detoxification. Vitamin B3 is essential for the body's production of energy and helps with fatigue. The powerful carotenoid Zeaxanthin provides protection against oxidative stress and helps to support eye health and cellular protection."
We have two samples of Spirulina Blue to give away to members of Club Happyzine.
GD Star Rating
loading...
GD Star Rating
loading...
Tags: spirulina