Home » Local Good News, Maori
Choppy waters usually preferred!
Submitted by anikainamu on October 28, 2012 – 5:36 pm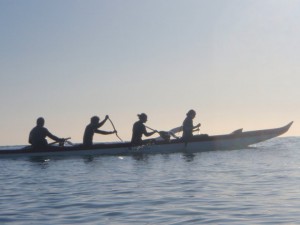 Waka Ama are sport and casual recreation for all ages, for both men and women, its a whanau sport that has been growing in numbers across Aotearoa. At the moment you may be able to catch a glimpse of waka ama paddlers are heading out on 'one-man' and in teams of '6-man' canoes in their efforts to get sprint fit for the summertime regional and national competitions.
Waka ama is a growing success story of a few men who wanted to revive the Pacific Ocean sport of outrigging canoes. From an activity that had greatly declined here, during the mid-1980s waka slowly began revival, and in the last 10 years dramatic growth has occured. Most weekends in seeing two metre one-man canoes sitting on a vehicles are commonplace in Manukau (Auckland) on their way to the water training site.
It has been said that once you're in a waka, that waka lifestyle takes over! Waka-paddler, waka-addict, waka-life.
It becomes a personal preferences to what size waka you can paddle, and the type of waters to be on. Sprinters prefer a flat calm place, especially the rudderless one-mans. However, ocean going, like a bit of chop, and tail wind to start surfing across bumps is exciting. From the Far Northland such as Pawarenga to the most southern club in Dunedin, paddlers are in their training gear, including booties and thermal-wear where necessary. Races run all year round, long endurance race series are held across the winter, and sprints across summer.
In my eleven years of paddling I've had the priviledge of being a part of awesome waka-racing teams across the nation. I first started in Te Paerangi and Tamaki in Auckland, Fire N'Ice in Dunedin, Mitimitaga O le Pacifica in Tutukaka Coast/Whangarei, Manukau-based Cook Island and currently Maitahi in Nelson. From the shores and harbours in Auckland, Lake Wakatipu in Queenstown, bays in the East Coast, and facing the beautiful snowy peaks in Nelson. There is no denying that it reconnects  paddlers with our nations beautiful waterways.
If you've been interested get in contact with your local waka ama club. Many clubs hold open days, corporate day events, and training for work-team based exercises to fundraise and support their clubs. Club listings and race listing can be found at http://wakaama.co.nz/
For those in Nelson, there is an amazing race happening in November in Kaiteriteri. I look forward to seeing you paddlers on the water!
Nā Ani Kainamu
GD Star Rating
loading...
GD Star Rating
loading...
Tags: Maori