Home » Club Happyzine
Check out: Lifestream's Biogenic Aloemint – great for digestion
Submitted by Charlotte on November 1, 2012 – 9:13 pm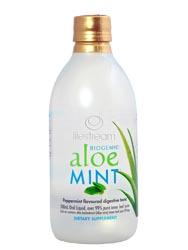 Check out Lifestream's yummy new product Biogenic Aloemint.  I've personally been chugging mine back because there's something about it that my body loves.  I can literally feel it in my gut.
Aloemint is a digestive tonic based on aloe vera gel and mint.  It's been developed to sooth the lining of the stomach and intestines to support "smooth efficient digestion."
It's great for maintaining a healthy immune system and intestinal bacteria, plus it supports the digestive tract to function well.
This tonic is all natural, it's sweetened with stevia and it doesn't have a laxative affect.
Two members of Club Happyzine will go in the draw to win it this week (Friday the 2nd November to the 9th of November).
Find out more on the Lifestream website.
GD Star Rating
loading...
GD Star Rating
loading...
Tags: aloe vera