Home » Wellbeing
Book release: Forty Days of Yoga
Submitted by Charlotte on February 5, 2013 – 3:51 pm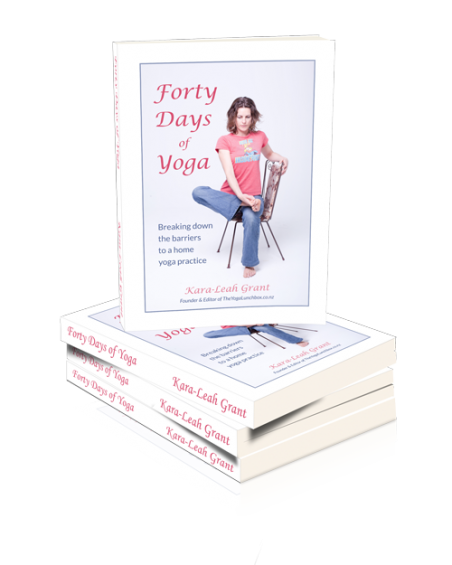 Media Release: February 5, 2013
How to make yoga an integrated part of your every day life
NZ book just released: 'Forty Days of Yoga – Breaking down the barriers to a home yoga practice'
By Kara-Leah Grant, founder & editor of TheYogaLunchbox.co.nz
Around the world, millions of yoga practitioners are attending classes, workshops and retreats – twenty million yoga students in the USA alone. Yoga has exploded.
Of those millions, thousands want to have a home yoga practice, but struggle to fit it into their busy, modern-day lives.
Kara-Leah Grant has the answer. She's had a consistent regular home yoga practice for eight years and has an intimate understanding of the psychological process required to make yoga a priority in busy modern-day lives.
In her just-released book Forty Days of Yoga, Kara-Leah takes readers on a journey into their lives and into their psyches so they can understand what they need to shift and change to practice yoga daily. She skillfully shares a deeper understanding of the essence of yoga while using worksheets
that prompt readers to challenge the ideas that prevent them from practicing yoga daily.
"It's not enough to say 'I want to practice yoga at home'," says Kara-Leah. "You need to assess your life, observe your mind and design a strategy that supports your needs. Otherwise, yoga just becomes one more thing to do on our never-ending to-do lists."
Far more than a how-to book, Kara-Leah doesn't tell readers where to put their feet in downward dog or their hips in warrior one. Instead, she outlines principles of asana practice that help practitioners find their own way into yoga.
"Ultimately yoga is a personal practice. It meets us where we are, with what we need," Says Kara-Leah. "Only when we begin to practice at home can we tune into what those needs are and respond to them."
Forty Days of Yoga is available in a multi-format download including PDF, ePub and Kindle files.  Print edition is coming soon.
Fact: Last year Happyzine gave away over 40 sustainably produced spot prizes to members of Club Happyzine simply by automatically playing their names in a weekly draw.  Join Club Happyzine today (the next nine people to sign up will win three packs each of organic dried apples from Eat Right foods!).
GD Star Rating
loading...
GD Star Rating
loading...
Book release: Forty Days of Yoga

,
Tags: yoga