Home » Community
Harvest those 'small moments of good', and win organic chocolate!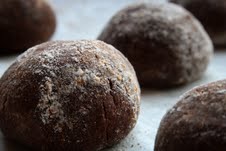 This project is kindly sponsored by Baron Hasselhoffs – gluten free sweet treats.
You know those moments when the world just feels rosy?
You just happen to gaze out the bus window as a teenager hands an elderly lady her bag of groceries.  You notice all the people gathering around your friend, who has recently lost someone important to her, in loving support.  You watch a new day rising up out of the sky in all its red and pink and marvel.  You witness a business person going out of their way to support a very worthy cause.  The list goes on and on.  Because these things happen each day.
Tell us about them.
Leave us a comment right here, sharing the small good news stories of everyday life, and you could win a delicious four pack of the new organic, gluten free Mexican Chocolate Snickerdoodle (Believe me, there's no stopping until these cookies are finished).
Share those special moments that truly warm your heart, and warm ours too.
Please send images to charlotte@happyzine.co.nz.  Offer extends to New Zealand based people only.

GD Star Rating
loading...
GD Star Rating
loading...
Tags: good news, positive news