Home » Club Happyzine
She'll be right! New Manuka Honey and Propolis Healing Balm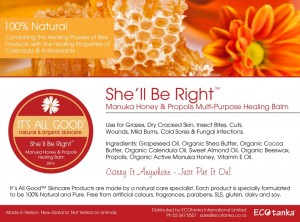 By Charlotte Squire
She'll be right!  It's a term us Kiwis are very familiar with.  One I still use daily, in a semi-joking but generally optimistic tone.
It's All Good products are made by a skin care specialist in Nelson.  They've come out with this new balm that you can use for grazes, dry cracked skin, insect bites, cuts, wounds, mild burns, cold sores and fungal infections.
Manuka honey truly is one of nature's most amazing gifts and research continues to prove its powerful healing qualities.  Throw in another healing friend – calendula and you're got a natural product guaranteed to everything ok.
Check out the ingredients of She'll Be Right balm, many of which are organic:  Grapeseed oil, organic shea butter, organic cocoa butter, organic calendula oil, sweet almond oil, organic beeswax, propolis, organic active manuka honey, vitamin E oil.
This is a great product to have in the house 'just in case'.
Two Club Happyzine members get to try it out!
GD Star Rating
loading...
GD Star Rating
loading...
Tags: club happyzine, manuka honey