Home » Music
2013 Smokefreerockquest – 25 years of kiwi music success!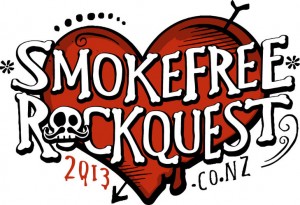 They've performed in theatres and event centres from Whangarei to Invercargill and now the top 30 acts in Smokefreerockquest 2013 have been selected.
There were 654 entries in this year's only nationwide, orginal youth music event, with contenders going forward from 23 regional finals to send in their DVDs for selection to play off at the national final in Auckland on September 28.
SFRQ founder and director Pete Rainey said judging the DVDs was, as always, a difficult task, with entrants striving to make their work stand out.
"There is a lot of creativity and effort that goes into making these DVDs of original music," he says. "It just highlights that there's a lot more to Smokefreerockquest than singing someone else's song on a reality TV talent show."
Smokefreerockquest's 25th year saw the introduction of a separate category for solo-duo performers; and the top 30 list is made up of 20 bands and 10 solo-duos. The bands are:
The Moots, Auckland,Western Springs College, Westlake Boys' High School & St Kentigern College
The Great Moon Hoax, North Shore,   Rangitoto College
Ludo, North Shore, Rangitoto College
Vivid, Auckland, Diocesan School For Girls
SundayBest, Waikato,St Peter's School (Cambridge)
The Beautiful Shambles, Waikato, Hillcrest High School
All of a Kind, Waikato, Putaruru College
The Incline, Bay of Plenty, Tauranga Boys' College, Tauranga Girls' College &Mt Maunganui College
Colour Sway   Hawkes Bay   St John's College (Hastings)
ABN (A Bit Nigel), Rotorua, Taupo-nui-a-Tia College & Rotorua Boys' High School
Aftershock, Rotorua, Western Heights High School & John Paul College
The Jefferys, Manawatu, Freyberg High School
Back to the Remedy, Wairarapa, Wairarapa College
 Front Back and Sides, Wairarapa, Wairarapa College
Harbour Lane, Wellington, Hutt Valley High School
Third Wheel, Nelson, Nelson College For Girls & Nelson College
Paper City, Nelson, Nayland College, Garin College & Nelson College
Arm the Reckless, Marlborough, Marlborough Boys' College
AashaWillandCullen, Christchurch, Shirley Boys' High School
Puzzle Puppets, Otago, Otago Boys' High School
And the solo/duos are:
Thomston (Thomas Stoneman), Auckland, Avondale College
Talika (duo), Auckland, St Mary's College (Ponsonby)
Khona Va'aga-Gray, Manukau, McAuley High School
Andre Smith, Manukau, Glendowie College
Ruby Walsh, Waikato, Hauraki Plains College
Harry Parsons, Waikato, Cambridge High School
Title (duo), Rotorua, Rotorua Girls' High School
Livvy and Anna, Nelson, Garin College
Two Odd Friends, Christchurch, Hagley Community College
Zizi ( Lily Jackson), Southland, Central Southland College
These 30 bands and solo-duos will be further narrowed down by a panel of judges from the music industry, and the final six bands and two solo-duos to play off in Auckland next month will be announced on August 12.
The national final of Smokefreerockquest is at the Raye Freedman Arts Centre, at 7pm onSaturday September 28. Tickets $20 from iTICKET, on sale from August 12. Guest acts to be announced. The event will be opened by the overall winner of the Skinny Mobile People's Choice, with the voting taking place on facebook after the national finalists are announced.
Smokefreerockquest, powered by Rockshop, has national winners' prize packages for bands and solo/duo winners that include musical gear to a total value of $13,000 from NZ Rockshops and their suppliers, inclusion on the NZ On Air Kiwi Hit Disc, radio promotional support, and video play on youth music channel FOUR. At the national final awards will be presented for the  MAINZ Scholarship for outstanding musicianship, the APRA Lyric Award, the Lowdown Best Song Award, the Smokefreerockquest Video Competition and the Smokefree Women's Musicianship Award.
More info at sfrq.co.nz or facebook.com/thesfrq
Smokefreerockquest – 25 years of music success 
Smokefreerockquest is New Zealand's only nationwide, live, original music, youth event. Celebrating it's silver anniversary this year, the series of over 40 events reaches audiences from Whangarei to Invercargill. Founded in 1989 by music teachers Glenn Common and Pete Rainey, who now run Rockquest Promotions full time out of Nelson, Smokefreerockquest has become a New Zealand institution.
Smokefreerockquest 2013, powered by Rockshop aims to motivate young musicians to prove their ability and realise the heights they can reach in their music careers, and to encourage their peers to support 100 percent original New Zealand music. For more information visit www.sfrq.co.nz
Hall of Fame
Musical successes from Smokefreerockquest over its 25-year history include Kimbra, MidnightYouth, Opshop, Evermore, Ladyhawke, Minuit, Kids of 88, Die!Die!Die!, Pistol Youth, Annah Mac, Bang!Bang!Eche!, Ivy Lies,  Cairo Knife Fight, Cut Off Your Hands, Luke Thompson, the Datsuns, Brooke Fraser, Anika Moa, Kora, Anna Coddington, The Electric Confectionaires, Steriogram, Aaradhna, Spacifix, Phoenix Foundation, The Feelers, The Black Seeds, Nesian Mystik, Bic Runga, The Checks, Julia Deans, Pine, King Kapisi, Kingston, The Naked and Famous, Autozamm and Elemeno P.
Smokefree's – Smoking Not Our Future Campaign
Smokefreerockquest plays a large part in helping Smoking Not Our Future get its key messages in front of a large audience of young people. Smokefree has been the naming rights sponsor of Smokefreerockquest for 23 of its 25 years and this longstanding partnership has been mutually beneficial. This year young people will be asked to join The Movement, which is a way for them to get more involved in helping New Zealand become smokefree by 2025. SFRQ events help students make protective connections to their schools, other students and communities and they also develop new skills and aspirations for their futures. For more information visit Facebook.com/notourfuture.
GD Star Rating
loading...
GD Star Rating
loading...
Tags: Smokefreerockquest