Home » Environment
Do it yourself theme a hit at Nelson Ecofest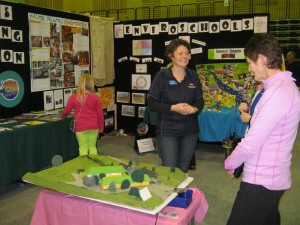 This weekend's Ecofest Expo in Nelson, top of the South Island, New Zealand, was another hit with locals keen on soaking up knowledge and ideas on better living.
Approximately 4000 people hit the Trafalgar Centre over Saturday and Sunday to get practical, do-it-yourself advice on how to save money, stretch their dollar further and live better for less – all the while being kind to our planet.
Over 100 stallholders were at Ecofest, sponsored by Nelson City and Tasman District Councils. Stands, seminars and workshops included how to heat your home efficiently and cost-effectively, advice on building eco-homes and passive solar design; designing productive gardens; saving money on car running costs; and healthy school lunches.
Spokesperson Councillor Gail Collingwood said: "Both Nelson and Tasman Councils recognise the value for the region from such an event, where the many questions about sustainable living can be answered in one venue."
The seminars and workshops were a real highlight – people were queuing up to learn about how to make their homes healthier, cheaper and warmer to run.
Cr Collingwood said people were really enthusiastic to get new ideas and resources on how to live more sustainably. "Ecofest is a fantastic venue for connecting people with knowledge and resources across the region.
"The Funky Fashion Show was also fantastic, and students created incredibly innovative and spectacular recycled garments."
Winner of the Huge Home Prize was Kate Martyn. The award for the Best Commercial Stand was Nelmac for the SmartRaft System. Best Community Group award went to WaiMaori for Stream Care Education.
For the Funky Fashion Show the Best Junior Prize went to Waimea Intermediate's Zoe Palmer and Anika Kemp. The Best Senior Prize went to Savannah Horrell from Salisbury School.
Join Club Happyzine and get the good, green news delivered to your inbox every Friday!
GD Star Rating
loading...
GD Star Rating
loading...
Tags: Environment, nelson