Home » Club Happyzine
Win a pack of Keep Leaf resuable bags!
Submitted by Charlotte on September 11, 2013 – 6:23 pm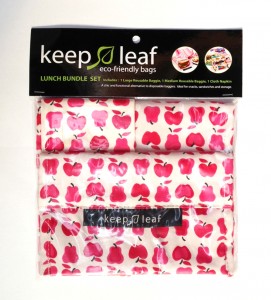 What is it about red apples on white cloth that makes a girl feel … well girly?
I've got me a pack of Keep Leaf reusable bags.  There's a large "baggie", a medium "baggie" and a cloth napkin.  I feel like I should nip off for a picnic, with my basket, to do them justice.
Don't you just love a matching set?
These "chic and functional" alternative to disposable baggies are great for snacks, sandwiches and storage.  As a parent I'll use mine for my son (who is too young to be aware of girlie patterns).  The exteriors are 100% cotton, the inner liner's waterproof and durable.  They're reusable and washable. In short.  They're awesome.
They're also free of BPA, lead and phthalates.
To find out more, hop onto the ECOtanka website and check out the range.
To win some, if you're a already a member of Club Happyzine – relax and think positive!  You'll automatically go in the draw to win a pack!  OR pay-what-you-can-afford to sign up today.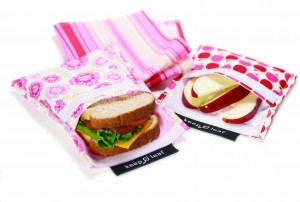 GD Star Rating
loading...
GD Star Rating
loading...
Tags: club happyzine