Home » Community
Clown thanks district councillor for social/environmental service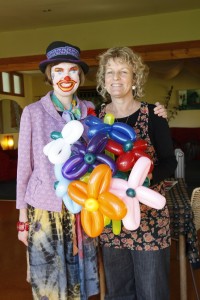 Tess the Clown has had her eye on Martine Bouillir, Tasman District Councillor, for six months.
A huge fan of Happyzine, back in February Tess pledged to give Martine "who is a really special person and encapsulates what Happyzine's about too, she's really into environmental change and community development and … how we can all live well on this planet" flowers and appreciation.  She said she would turn up on Martine's door step once 77 people had joined Club Happyzine.
Happyzine has been transiting into a pay-what-you-can-afford website this year.
Happyzine has now reached and surpassed 77 members!  So Tess the Clown paid Martine a surprise visit at her house over the weekend.  Here's the video of Tess turning up on her doorstep with a big bunch of flowers:
See our other pledges here.
If you'd like to make a pledge for Happyzine: email charlotte@happyzine.co.nz
1.  Tess the Clown's extremely kind Club Happyzine pledge – video: Tess the Clown has pledged to give a very special lady in her community (who shall remain nameless, but let's just say she's no stranger to polices and decision making) a big bunch of Tess made blow up flowers once we reach our first 77 members of Club Happyzine.
GD Star Rating
loading...
GD Star Rating
loading...
Tags: gratitude