Home » Music
Kiwi rockstars start young in "supportive and encouraging" Bandquest 2013
Submitted by Charlotte on September 24, 2013 – 6:55 am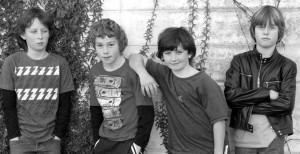 Rockshop Bandquest 2013
What's loud, cute and coming to a stage near you? Dozens of aspiring musos in this year's Rockshop Bandquest, the nationwide music contest for intermediate and primary students.
Bandquest is in its third year as the younger sibling of Smokefreerockquest, and according to Founder and director Glenn Common is a response to requests from teachers for a contest to encourage school bands in this age group.
"Rockshop Bandquest is a platform for the next generation of contemporary musicians to step out and perform in a supportive and encouraging competition format, with a focus on education, inspiration and entertainment," he says. "Last year entries almost doubled to 130 bands nationwide and this year, with more regions covered, we expect a further increase."
Rockshop Bandquest is for bands of two or more members, younger than Year 9, who  play a short set of covers or original songs. Common says there is an award for the best original song to encourage bands to write their own material, but the focus is on performance skills.  He says support from teachers and schools is essential to make the competition work,  and give kids an opportunity to demonstrate their abilities.
"There's heaps of enthusiasm from the young bands that are entering Rockshop Bandquest," Common said. "We're seeing quite a level of sophistication in their performances and significant technical skill both instrumentally and vocally – they are confident and competent."
This year Rockshop Bandquest will be held in Dunedin, Christchurch, Nelson, Wellington, Tauranga, Napier, Hamilton and Auckland, with online entries for bands in outlying areas. There will be mentoring sessions from successful Smokefreerockquest bands in the afternoon of the regional events and an online national final. Major sponsor, Rockshop, donates prizes of musical equipment, which go to the winners' schools.
Bandquest entries close on Thursday 26 September, with the first contests in Auckland at the end of October.  Rockshop Bandquest runs from 7pm – 9pm, venue details and ticketing information online at bandquest.co.nz
Rockshop Bandquest dates 2013
Northshore – 30th Oct, Auckland Girls Grammar Auditorium
Auckland – 31st Oct, Auckland Girls Grammar Auditorium
Waikato – 13th Nov, Clarence St Theatre, Hamilton
Bay of Plenty – 14th Nov, Baycourt Theatre, Tauranga
Hawkes Bay – 6th Nov, Municipal Theatre, Napier
Wellington – 7th Nov, Secret Level, Wellington
Nelson  – 9th Nov, Theatre Royal – Nelson
Canterbury 1 – 13th Nov, Venue to be confirmed
Canterbury 2 – 14th Nov, Aurora Centre, Christchurch
Otago – 18th Nov, King & Queen's PAC, Dunedin
Onlines – bands from other regions to links to post links to their videos by 8th Nov, with the online final on 15th Nov, via You Tube
National Final – held online 2nd December, 2013.
GD Star Rating
loading...
GD Star Rating
loading...