Home » Home
Building homes from the earth: Natural Building Conference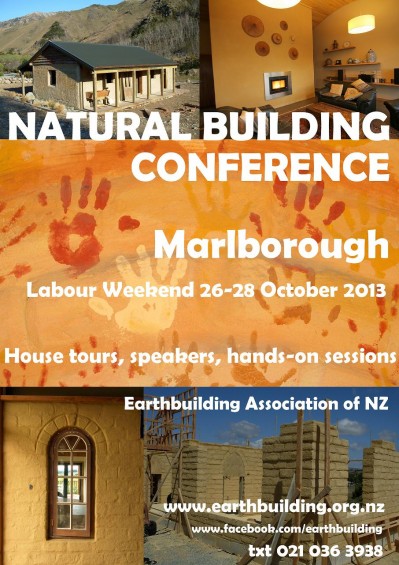 Marlborough, Labour Weekend 26-28 October 2013
The Earthbuilding Association of NZ (EBANZ) is holding their annual natural building conference in Marlborough this Labour Weekend.
Building professionals from as far as Northland and Invercargill will converge in Picton to share their experience in design and construction of earth and strawbale buildings with interested people, future home owners and students.
The weekend will include two house tours, hands-on sessions, material testing and speakers on a range of topics,  including "Creating Healthy Interiors", "Earthbuilding Standards: Designing for earthquakes, durability and energy efficiency" and "Modern Strawbale Design". There will also be the chance to learn from historic buildings, and how these can be given a new lease on life using original materials.
Participants have got the option of attending the whole weekend, or just one day of their choice, and meals are included in the fee. For those who travel from further away, accommodation can be booked through EBANZ at the conference venue. The evenings will be spent with more informal discussions and movie screenings.
Depending on interest, there are also additional optional activities planned for Labour Monday: A hands-on session will be held at Riverlands Cob cottage in Blenheim, where participants can learn about restoration work, including structural repairs and lime plasters. And there might be the chance to visit some of the earth buildings affected by the Seddon earthquakes and discuss lessons learned and possible strategies for repair.
"The conference is a prime opportunity to learn about earth and straw as a building material, pick the brains of some really experienced building practitioners and find out about the latest developments in these building techniques", says organizer Verena Maeder, who is chairman of EBANZ and an earth building artisan with 20 years of experience in this type of contstruction. "We have strived to include a wide range of topics, techniques and styles, and believe there will be something in there for everyone."
The conference can earn building professionals LBP points and EBANZ has still got one space available for free to a young person in training (apprenticeship or study). The event is EBANZ's major fundraising event for the year, and attendance will give participants membership until March 2014.
For information and bookings, visit www.earthbuilding.org.nz or email contact@solidearth.co.nz
To join event on facebook, search for "Natural Building Conference".
GD Star Rating
loading...
GD Star Rating
loading...