Home » Blog, Featured
Where's your special place in Aoteroa?
Submitted by Charlotte on October 25, 2013 – 2:57 pm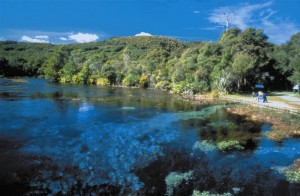 By Charlotte Squire
I love to take time out the Waikoropupu Springs, at home here in Golden Bay.  As soon as I get near those waters I feel space clear in my mind.  As I wander around the paths, observing the changes in the bush, feeling the freshness of the spring water fizzing in the air, I feel myself relax and soften.  I return to that place of peace and clarity inside.
I know that the springs have long been a sacred place for Maori, and now they're protected by the Department of Conservation.  That place still feels sacred, and I occasionally come across other people who are crying, or singing to the waters, because they keenly feel it too.
Maori legend has it that the taniwha guardian of the springs is Huriawa, one of the three main taniwha of Aoteroa.  She's said to travel deep into the land, clearing blocked waterways and when she's at rest, she's at the Waikoropupu springs.
Go figure.
Where's a special place in Aotearoa, in nature, that you recharge?
Charlotte Squire is the founder of www.happyzine.co.nz  This November she's running the:  Online Course – Happyzine Month of Change November 2013!  This course is for people who want to bring positive change into their lives, communities, planet.  30 days of positive focus. Find out more here.
GD Star Rating
loading...
GD Star Rating
loading...
Tags: waikoropupu