Home » Arts
Utopia and sustainability feature Freedom Farmers exhibition in Auckland
Submitted by Charlotte on November 1, 2013 – 8:51 pm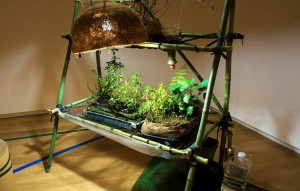 Auckland Art Gallery kicked off Labour Weekend with the opening of Freedom Farmers: New Zealand Artists Growing Ideas, the largest overview of new contemporary art in New Zealand today.
 This dynamic and free exhibition sees 20 artists engage with ideas of utopia and sustainability, and demonstrates the way these creative thinkers act as leaders and innovators in New Zealand – a country whose culture values invention, ingenuity and liberty.
In his new installation for the exhibition New York-based artist Martin Basher comments on the ideals portrayed in modern advertising with Untitled (Spiritual-Maketplace 01), as does newcomer Dorota Broda in her work, Power to you. Adventurous visitors to Freedom Farmers can physically climb into Richard Malloy's Treehouse or consider different ways of living with Louise Menzies's video work on the alternative living community Peloha. Walters Prize winning artist Dan Arps shows his latest large-scale installation which scrutinises the world of daycare creativity and copyright.
Auckland Art Gallery Curator Contemporary Art, Natasha Conland, says, 'Freedom Farmers gives visitors an opportunity to explore how artists have examined tried and true values of New Zealand society, our care of the environment, our ability to live creatively and with freedom.'
'Our opening weekend offered rolling artist talks, an overview by myself, ceramics class, and leads into what looks to be an exceptionally dynamic visitor programme over the four months.'
Auckland Art Gallery Director, Rhana Devenport, says, 'At first glimpse Freedom Farmers reveals an energetic, varied view of New Zealand art not seen for some time, and is a continuation of the Gallery's commitment to contemporary art.'
'Equally exciting is the full events programme which has been workshopped together with the artists and The University of Auckland's Creative Thinking Project, which celebrates the importance of creativity not just within the arts world, but in all aspects of society today.'
The events programme features a mix of performances, guest lectures, special events and ongoing artist talks. Upcoming event highlights include:
·         3 November, 3pm – Artist Talks listen to artist Xin Cheng discuss her work with University of Auckland Senior Lecturer in Fine Arts, Allan Smith – FREE
·         10 November, 1pm – World-famous Bogan expert Dr Dave Snell talks on this unique and interesting subculture – FREE
·         17 November, 1pm – Learn about traditional Māori bush medicine with Ricky Bennett – FREE
·         26 November, 6-9pm – After Hours Art Chat: A panel discussion on creative living featuring prominent New Zealand thinkers, including Eco Store Founder Malcolm Rands, The University of Auckland neuroscientists, historians and others. Hosted by Kim Hill – Cost:$10
Artists showing in Freedom Farmers: New Zealand Artists Growing Ideas:
·         Edith Amituanai
·         Dan Arps
·         Wayne Barrar
·         Martin Basher
·         Mladen Bizumic
·         Dorota Broda
·         Steve Carr
·         Xin Cheng
·         Stella Corkery
·         et al.
·         Tessa Laird
·         Allan McDonald
·         Richard Maloy
·         Louise Menzies
·         Shannon Novak
·         Ava Seymour
·         Shannon Te Ao and Iain Frengley
·         Isobel Thom
·         Francis Upritchard
Freedom Farmers: New Zealand Artists Growing Ideas from 26 October to 23 February 2014. Entry is free. For more information visit
GD Star Rating
loading...
GD Star Rating
loading...
Utopia and sustainability feature Freedom Farmers exhibition in Auckland

,