Home » Events
Morris dancers sweep the nation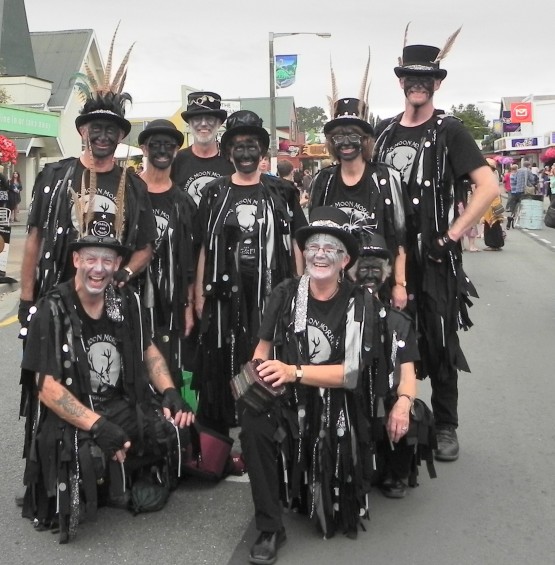 Morris On TourNZ – Media release
Watch out for over a hundred men and women, wearing bells, ribbons and very large smiles, dancing about in various locations around the region just after New Year.
They're Morris Dancers, on an annual National Morris Tour of New Zealand this January.  Dancers from New Zealand and England, US and Australia will 'dance out' at various locations.
Steve Rule is the 'squire' or leader of the hosts, Nelson Morris Dancers and says the tour provides opportunities for teams to 'do a bit of showing off', learn some new dances or traditions and generally have a good time.
"Morris Dancing is an old English ritual dance that can be traced back to the 1500s but there's no evidence of where it comes from," he says. "It's magical and mystical, you don't need a partner… and I just love it."
Steve has been Morris Dancing all his life and says it's a way of being connected to the past but in a modern innovative way.
"It's been developing over the past five hundred years and in England now it's protected by English Heritage, an organization that ensure the past is kept to enrich the future."
Steve and his wife Jan King both Morris Danced in the UK prior to immigrating to New Zealand. They formed Nelson Morris in August 2009 and now the club has around 23 dancers and musicians.
"People take the mickey out of Morris Dancing because it's quirky – men and women prancing around with bells and ribbons – but people should come along to a performance see what cool dances we do," Steve says.
Morris Dancing was dying out in the 1970s, but there's been a revival since and Steve says there are around ten groups around in New Zealand now.
"All you need is a reasonable level of fitness, a good rhythm, a sense of humour and a minimum of six dancers and a musician."
The National Morris Tour is an annual event, held at various locations around New Zealand.  It will be held in Nelson from 7 -12 January 2014. For more information go to Nelson Morris Dancers on Facebook or wwwnelsonmorris.org.nz or http://nzmorrisontour.wordpress.com/

GD Star Rating
loading...
GD Star Rating
loading...
Morris dancers sweep the nation

,
Tags: dance