Home » Community
Growing strong community in Wellington vital part of emergency preparation
Submitted by Charlotte on January 12, 2014 – 8:28 pm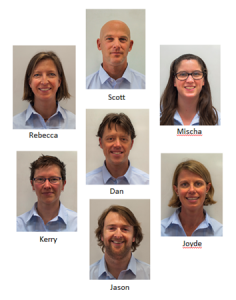 Knowing our neighbours is more than a feel-good activity, it can also be invaluable during emergencies.  Manager of Community Resilience for the Wellington Region Emergency Management Office Dan Neely explains why it's better to know our neighbours and be prepared before the emergency hits.  Here's the low down on his plan for the year, including the biggest challenge they face, and how he and his team personally maintain their well-being.
My name is Dan Neely.  I am the Manager of Community Resilience for the Wellington Region Emergency Management Office (WREMO).   Our Community Resilience Team comprises Scott in Kapiti, Rebecca  in Porirua, Kerry in NW Wellington, Jason in SE Wellington, Jodye in Central Wellington and Hutt City and Mischa in Hutt City and Upper Hutt.  We are about to hire someone to join our team in the Wairarapa. The goal of our team is that each person integrates into their assigned geographical area to build relationships with local partners to help them enhance their resilience to during times of stress in an emergency event.
What does community resilience mean for your team?
Communities should be able to anticipate their risks to natural and man-made hazards, limit the impacts and recover quickly and even grow stronger after an emergency event.  Our team does its best to actively engage with our many diverse communities to help them develop preparedness solutions that are appropriate to their interests and needs.  We're big fans of helping foster strong and connected communities outside of the emergency management space, community over can openers!
3.  What are your goals for this year?
We've got LOTS on!  We will continue rolling out Community-Driven Response Plans, launching It's Easy: Prepared Neighbours and It's Easy: Prepared Businesses guides, building partnerships with our community through our CDEM Volunteer training programme, working with school principals to help them practice earthquake and family reunification drills, promoting our Preparedness Enablers like the Grab&Go Emergency Kit and our Emergency Home Rainwater Tanks, more promotion of community groups and events on our Facebook page and working with organisations that support vulnerable people so those organisations and their clients are better prepared for an emergency, just to name a few things we have on…
4.  What are the key challenges you're facing and how are you moving through them?
Apathy is always the biggest challenge for us, which is why we try to make our solutions as applicable and easy to adopt as possible for our communities.  We try to keep things interesting and somewhat entertaining on our Facebook page – WREMOnz.  As a sector, Emergency Management goes from being the least popular kid in the class to the most popular in the space of a few minutes after a decent shake or storm.  During this brief period, it is easy to get the public's attention and help them prepare, the fun challenge is finding ways to build connectedness and preparedness into their lives on a nice sunny day.
5.  How do you maintain your own resilience and well being within your role?
Each member of our team has interesting ways of maintaining their well being, especially during an activation.  Day-to-day, we have people that train for Ironman competitions, others volunteer with community groups related to emergency management, our family and friends help ground us.  Personally, I like watching The Big Lebowski on a somewhat regular basis.
Did you know the Happyzine community fund Happyzine's amazing good news service?  You too can join up to Club Happyzine and receive exclusive good news stories each week, AND you can win green giveaways and tickets to events. To find out more about Club Happyzine click here.
GD Star Rating
loading...
GD Star Rating
loading...
Tags: Community, community reslience, wellington