Home » Uncategorized
Weiti River Festival
Submitted by Charlotte on February 13, 2014 – 7:31 pm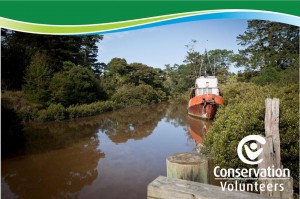 Conservation Volunteers
Celebrate the natural wonders of the Weiti River and help us launch the Weiti WildLink project
Come along to the Weiti River Festival and join in the fun at our family friendly event. Stroll along the river on one of our guided riverside walks, meet the critters that live in the water, take part in interactive activities, face painting, games, competitions, prizes, or relax by the river bank and enjoy some great music and food.
Date:                      Sunday 23rd February 2014
Time:                     10am – 2pm
Where:                  Wade Landing Reserve, Tavern Road, Silverdale
The festival will launch the Weiti WildLink project – a partnership between Conservation Volunteers New Zealand and the Hibiscus and Bays Local Board to restore the stream banks of the Weiti River with native plants, provide a better home for fish and other wildlife and help keep the river and beaches clean.
Weiti River Festival is coming … pass it on!
For more information call 0800 56 76 86, email info@conservationvolunteers.co.nz
or visit www.aucklandcouncil.govt.nz and search 'weiti wildlink'
Conservation Volunteers | 3 Esplanade Road, Mt Eden, Auckland 1024
www.conservationvolunteers.co.nz
GD Star Rating
loading...
GD Star Rating
loading...